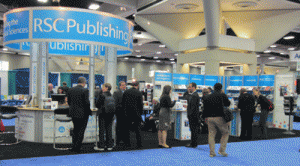 At the Spring ACS in San Diego last month the RSC Booth was once again hard to miss in the Exhibition Hall. As delegates flocked to find out how the RSC has been working to represent the chemical science community, there was plenty to keep everyone occupied.
With more than 30 journal titles on display, including new titles Toxicology Research and Biomaterials Science, the RSC portfolio encompasses a broad subject footprint. Our new look journal brochures, designed to showcase content, outline key information about the journal and – at a slimline 4 pages – be easy to transport, were available for delegates to peruse and take away. To aid users in finding the titles most closely associated with their areas of research, our journals, books and key products are also now classified into 13 subject portfolios.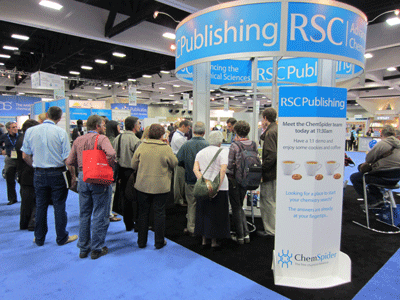 Visitors to the stand were able to browse our latest book titles and take advantage of a 30 percent show discount. Plus our competition to win an Amazon kindle proved popular. The lucky winner, selected at random, was a scientist based at the University of Portland, Oregon, USA.
There were three lucky winners in our daily e-membership competition, who each walked away with an iPod shuffle. As an e-member of the RSC, for just £20 a year, you can engage with an online community of over 20,000 scientists worldwide and keep current with 12 digital editions of Chemistry World, the best way to keep up to date with the world of chemistry. 
The ChemSpider Coffee and Cookie event on Tuesday morning was well attended, with around 100 delegates taking the opportunity to find out more about the free chemical database. Several people stayed to receive one-to-one demonstrations of the benefits of ChemSpider, which provides fast text and structure search access to over 26 million structures from hundreds of data sources.
Another activity-filled meeting! We look forward to seeing you in Philadelphia in August.