Have you seen the Royal Society of Chemistry's (RSC) library in London, UK?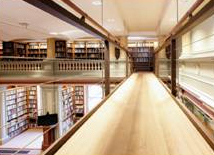 For the past year, the library has been represented on the front cover of the RSC Publishing Catalogue 2011 and distributed worldwide at conferences, exhibitions, by our sales team, agents, distributors and by post.
This month, I am updating our RSC Publishing Catalogue and would like to continue the theme and feature an international library on the front of our 2012 Catalogue, helping to raise the profile of the library and the facilities on offer.  This theme will continue every year for several years.
There are so many fantastic libraries in the world, whether architecturally, academically, historically or in terms of resources and support, so to help us find the right image, we are starting an annual competition.  This competition will be judged by RSC and our external RSC Library Advisory Board.
What are we looking for?
We are looking to receive a high resolution image representing the competition topic that we can use in all promotional activities relating to the RSC Publishing Catalogue.
Competition Topic
The topic for the RSC Publishing Catalogue 2012 competition is – Science in the Library
Competition Details  
Image to be supplied as high resolution in JPEG or EPS
Competition entry deadline – Friday 24th June 2011
Submit your image entries to:
Louise Peck
Library Marketing Specialist
RSC Publishing
peckl@rsc.org
Please contact me with any queries and I will happily help. We look forward to receiving your competition entries!
Competition Terms and Conditions
One winner will be selected by RSC and the RSC Library Advisory Board from all library image entries received by 18.00 GMT on Friday 24th June 2011
By submitting an image, entrants hereby give permission to the RSC for the image to be published by the RSC on the front cover of the RSC Publishing Catalogue
By submitting an image, entrants hereby confirm that the image is their own original work
Images to be supplied in high resolution JPEG or EPS format to peckl@rsc.org
The image should relate to the topic Science in the Library
The winner will be notified by email
Unsuccessful entrants may not be notified
Only one entry per individual
No cash prize alternatives are available
The institution/organisation name and image of the winner will be used in RSC marketing activities
Employees of the RSC will not be eligible to enter this competition
The Royal Society of Chemistry will store any personal data you supply on its electronic records in order to contact you further about the competition and it will NOT be passed on to third parties.
P.S. Have you visited the RSC Library Tool Kit?
GO TO www.rsc.org/librarytoolkit