RSC Desktop Seminars in Organic Chemistry with the Brazilian Chemical Society 2020 are an initiative from the Royal Society of Chemistry and the Brazilian Chemical Society to bring cutting-edge research directly to you!
Covid-19 has exposed us to a new reality where the virtual world is much more important than before. In order to keep our students engaged at the frontiers of Organic Chemistry, we have organized a weekly webinar series that is a joint collaboration between the Royal Society of Chemistry (RSC) and the Organic Chemistry Division of the Brazilian Chemical Society (SBQ). It is an alternative way to share work and interact with potential collaborators.
The sections will alternate between Brazilian and international speakers, in some cases with the opportunity for a selected Brazilian early career researcher to engage with the audience by presenting their recent independent career developments.
Program 10 September 2020 | 11:30 (BRT) |

15:30 (BST) 
11:30 Introductions and welcome
11:35 Early Career presentation with Q&A
11:55 Main Presentation with Q&A
12:55 Closing remarks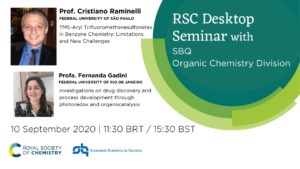 ---
RSC Desktop Seminars in Organic Chemistry with the Brazilian Chemical Society will happen every week at 11:30 (BRT) and we will keep you updated about the registration links and program. We already have confirmed the following speakers and dates.
NEXT Speakers

 
17 September 

2020 
Prof. Dr. Liane Rossi
Prof. Dr. Marcelo Rodrigues 

(Early Career)

Universidade de São Paulo-USP

Universidade de Brasília-UnB

Title:

Update on selective hydrogenations catalyzed by gold

Title:

Nanotechnology and Sustainable Agriculture: Challenges and Solutions
Registration:  https://rsc.li/3bJBIVw
24 September 

2020 
Prof. Dr. Corolina Andrade
Prof. Dr. Igor Jurberg 

(Early Career)

Universidade Federal de Goiás-UFG

Universidade de Campinas-UNICAMP

Title:

Artificial Intelligence Based Platforms for Accelerating Drug Repositioning and Discovery for Neglected and Emerging Diseases

Title:

The Power of Conjugation: Visible Light-Mediated Transformations of Aryldiazoacetates
29 September 

2020 
Prof. Dr.

Luiz Cláudio A. Barbosa

Prof. Dr. Jefferson Princival

(Early Career)

Univ. Federal de Minas Gerais-UFMG

Universidade Federal de Pernambuco-UFPE

Title: Advances in tetronamide chemistry: synthesis of natural and unnatural bioactive compounds
Title: Improving biocatalytic process for sustainable conversion of small polyfunctional building blocks
1 October 

2020 (

Exceptionally at 15:00 PM at BRT

)
Closing webinar. This one will not be recorded
Gerald. E. K. Branch Distinguished Professor  

F Dean Toste

University of California, Berkeley-US

Title: The Evolution of Homogeneous Gold Catalysis for Organic Synthesis
---
---
History of the Series
Those who registered received a link of the recording. Check your e-mail!
4 August 2020
11 August 2020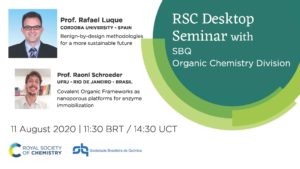 18 August 2020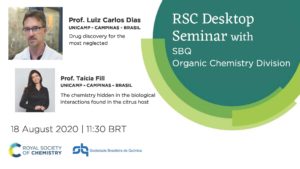 25 August 2020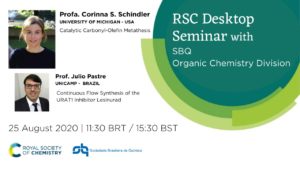 3 September 2020