NaNoTeCH: Elements of the Periodic Table in Nanoscience and Nanotechnology
T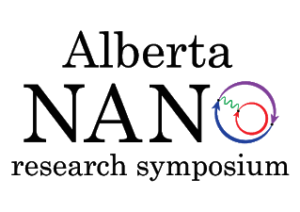 he Alberta Nano Research Symposium is co-hosted by the University of Alberta Nanotechnology Group and the University of Calgary nanoGroup, and this year it was held at the Shaw Convention Center in Edmonton, Alberta. The interdisciplinary nature of nanoscience and nanotechnology brings together researchers from a wide variety of backgrounds, which makes the Alberta Nano symposium attractive to individuals with backgrounds in Physics, Chemistry, Biology, Engineering, and Computer Science who were encouraged to share knowledge, develop collaborations, and celebrate their accomplishments with fellow experts in the nanotechnology field. The theme of this year's symposium, NaNoTeCH: Celebrating the Periodic Table, was chosen to coincide the International Year of the Periodic Table (IYPT), and continued to highlight the diverse and collaborative nature of the field.
Alberta Nano Poster Prize Winners
To recognize some of the outstanding research presented at the Alberta Nano symposium, the Royal Society of Chemistry sponsored two poster prizes to be awarded to the young researchers that presented their fascinating research and most impressed the judges. The winner of the Chemical Science poster prize was Taylor Lynk, an MSc Candidate in the McDermott Group at the University of Alberta, where she is focusing on surface-enhanced Raman spectroscopy (SERS) for the detection and quantification of natural plant products. Her poster showcased the application of this technique to cannabinoid and terpene detection as a method to provide chemical fingerprints for target molecules. Her poster, cleverly titled 'The Hunger Games: In-Process Quality Control of Cannabis-Based Consumables,' surely caught the attention of many attendees, as the recent legalization of cannabis in Canada and upcoming legislation processes has presented a clear unmet need for more advanced analytical tools for this rapidly-growing market. Before coming to Alberta, Taylor worked in the research lab of Prof Christa Brosseau at Saint Mary's University in Halifax, Nova Scotia. Prof Brosseau's lab focuses on sustainable chemistry and materials, and Taylor co-authored one of the group's papers that was published in Analytical Methods earlier this year. You can follow Taylor on Twitter @taylorlynk and you can follow Mark McDermott on Twitter @MarkTMcDermott for more updates from the group. 

The winner of the Nanoscale Horizons prize was awarded to Nidhika Bhoria, an MSc student in the Department of Chemical Engineering at the University of Calgary, where she works with Prof Md Golam Kibria. Prof Kibria's research group focuses on electrocatalysis and photocatalysis for the sustainable synthesis of hydrogen and ammonia, as well as carbon fuels or feedstocks, including CO2 conversion to high-value chemicals, which is the focus Nidhika's work. She presented her poster on 'Nanostructured MOF Catalysts for Electrochemical Reduction of Carbon dioxide.' Her poster illustrated the selectivity for 2-carbon and higher products of carbon dioxide reduction, which could provide a basis high-throughput industrial-scale conversion. We look forward to seeing more of the research that both Taylor and Nidhika will be working on over the coming year and wish them the best in all of their endeavors. We will be happy to see the Alberta Nano Research Symposium return again next year and are excited to see how this unique and high-quality meeting continues to grow.  
Highlighting Elements in Nano and Materials Research
The Royal Society of Chemistry has also been celebrating the 150th anniversary of the Mendeleev periodic table, and with the addition of elements 113, 115, 117, and 118 to the 7th row of the periodic table in 2016 we were able to complete our beautiful 'Visual Elements' interactive periodic table; among our many IYPT-themed activities in the community, we have fun and informative educational resources, new funding and grant opportunities, and special collections we have been putting together from within and across our journals. Just as the Alberta Nano symposium encourages collaboration and diversity, we too have promoted further collaborative efforts across our journals. Many of our various IYPT-themed collections, like the Elements for Next Generation Batteries collection, feature international collaborations and cover rich and diverse aspects of the elements from multiple journals. This particular collection highlights the elements lithium, sodium, zinc, among other elements contained in new battery materials. Thanks to the teamwork and guest editing by Zhiqun Lin, Journal of Materials Chemistry A Associate Editor, from Georgia Institute of Technology, and Xiaodong Chen, Nanoscale Associate Editor from Nanyang Technological University in Singapore, it features papers from across the Materials and Nano journal portfolios, including Materials Horizons, Nanoscale Horizons, Journal of Materials Chemistry A and Nanoscale. We hope that you enjoy this and our other special collections as part of the International Year of the Periodic Table!