---
Do you want to know who is making the decisions behind the papers that we publish? We want you to get to know them too! While what happens behind-the-scenes after submitting a paper may seem mysterious sometimes, it's no secret here at the Royal Society of Chemistry – our Editorial Boards are made up of international teams of globally-acclaimed researchers. As Editorial Board members, these folks work to stay up-to-date with the most exciting research and shape the field in which they have made significant contributions of their own. They are the world's leading experts and they believe in the RSC's mission.
To help our community get to know them, we have been bringing our Editors to events and institutions around the world, giving researchers a chance to learn not only about their science but also about the publishing process and what it's like to handle manuscripts and be the deciding factor in a publication. Oftentimes, we include additional sessions and activities to help our communities grow stronger, stay connected to the bigger picture, and be in-the-know about the scholarly communication landscape and how it is affecting their research. We are very excited to showcase so many of our Editorial team members around the US and Canada this year. We hope you can join us in one of the cities we will be visiting this year!
---
Ann Arbor, Michigan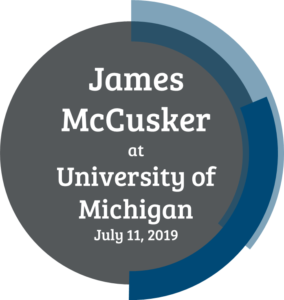 Our first Meet the Editor event will be held in beautiful Ann Arbor at the University of Michigan, the home institution of Professor Ryan Bailey. Prof Bailey is an Associate Editor for Analyst, and the Bailey Lab focuses on  biomolecular signatures of disease in individuals – single patients, in a clinical setting – and the development of tools for multiparameter biological analysis. Prof Bailey will be joined by Jenny Lee, PhD, from our Washington, DC office, and Professor James (Jim) McCusker from Michigan State University. Prof McCusker is an Associate Editor for Chemical Science, and is one of the most prominent researchers working in photochemistry. The McCusker Research Group focuses both on ultrafast spectroscopy of transition metal complexes, and on chemical dynamics related to electron exchange. Prof. McCusker will give a research presentation on "Deconstructing Reaction Coordinates for Ultrafast Excited-state Dynamics: Using Coherence to Inform Synthetic Design." Afterwards, Jenny will join our two Associate Editors to give an interactive presentation on publishing in high-quality journals like Analyst and Chemical Science, and will cover components of a submission, the peer review process, and more. Attendees can ask the Editors and Jenny for specific advice or insights, and also share their own experiences. Lunch will be provided, while Jenny gives an informal talk on Careers in Publishing, and afterwards she will give an informative presentation on Open Access Publishing – an important topic for publishers that can otherwise be alien to researchers. The events are all free to attend, and you can register now at rsc.li/michigan!
For updates from the University of Michigan Department of Chemistry, you can follow @MichiganChem and for updates from Michigan State University Department of Chemistry, you can follow @msuchemistry
---
Toronto, Ontario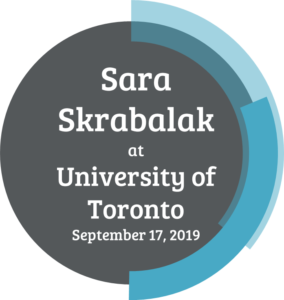 In September, Marika Wieliczko from our Washington, DC office will travel to Canada, where you can find many of our wonderful Board Members. Toronto is known as one of the most multicultural metropolitan areas in the world, with residents from all nations adding to the diversity of the city. Joining Marika in the provincial capital will be Professor Sara Skrabalak from Indiana University for a day of activities at the University of Toronto. Prof. Skrabalak is an Associate Editor for Nanoscale and our newly-launched Open Access journal, Nanoscale Advances. Her research is focused on developing synthetic methods for solid materials with defined shapes and architectures, and studying their properties for applications in energy, chemical sensing, and secure electronics. For updates from Prof. Skrabalak, you can follow her on Twitter @SaraSkrabalak and for news from the Department of Chemistry, you can follow @chemuoft.
In the Department of Chemistry, Prof. Skrabalak and Marika will join Professor Alán Aspuru-Guzik and Professor Andrei Yudin, both Associate Editors for Chemical Science, as well as Professor Douglas Stephan, Chair of the Editorial Board of ChemSocRev. Prof. Aspuru-Guzik's research group is renowned as a leader in quantum computing and machine learning. Prof. Aspuru-Guzik is very active on Twitter and posts lots of updates from his group and much more – follow him @A_Aspuru_Guzik. The Stephan Research Group spans a wide range of inorganic main group chemistry and organometallic chemistry. They explore fundamental research on new reactivity and chemical transformations, with the aim of developing new catalysts, materials and processes. Prof. Andrei Yudin is a pioneer in the development of tools for chemical synthesis. The Yudin Group has developed entirely new synthetic process that have reached the commercial market, and they continue to explore intermediates that many would consider impossible to prepare. You can get more updates on their exciting work through Twitter by following @andrei_yudin. 
Together with Marika and Prof. Skrabalak, Prof. Aspuru-Guzik, Prof. Yudin, and Prof. Stephan will help attendees learn about and understand the publishing and peer review process, and learn from the Editors first-hand how to craft their submissions to maximize their efficiency and improve their experience with publishing. If you can't make it to the event, you can still ask your questions through Twitter! Send your questions to @ChemMarika with the hashtag #AskTheEditor and Marika will include your questions for Sara and the other Editors during the event and share their responses and advice with everyone! 
---
Atlanta, Georgia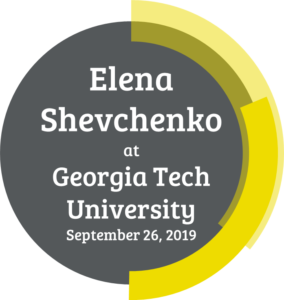 Also in September, Jen Griffiths, PhD, will travel to Atlanta from our Washington, DC office. The city, whose emblem of a phoenix rising from the ashes, representing its transformation into a major center of the civil rights movement after its decimation in the civil war, has been flourishing with many diverse institutions of higher learning. While visiting Atlanta, Jen will host events at both Georgia Tech University and Emory University. At Georgia Tech, she will be joined by Elena Shevchenko, Scientist at Argonne National Laboratory and an Associate Editor for Nanoscale and our newly-launched Open Access journal, Nanoscale Advances.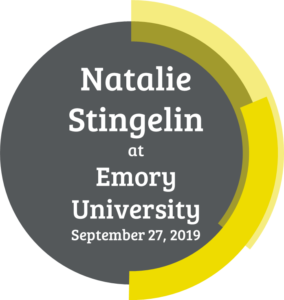 Next, Jen will bring Professor Natalie Stingelin from Georgia Tech over to neighboring Emory University to introduce the Department of Chemistry to Prof. Stingelin, as a researcher and as an Associate Editor for Journal of Materials Chemistry C. The Stingelin Lab is interested in organic functional materials, including inorganic/organic hybrids, advanced optical systems, and bioelectronics. You can follow Prof. Stingelin @StingelinN and get updates from her lab through @StingelinGroup on Twitter.
Prof. Stingelin and Jen will be joined by Professor Huw Davies, Associate Editor for ChemSocRev. The Davies Group is renkowned for its work on dirhodium catalyts for C-H activation, and leads the nation-wide NSF Center for Selective C-H Functionalization. They will give insights into publishing, and Jen will participate in a career panel to introduce attendees to careers outside of academia. 
---
Austin, Texas
The city of Austin is unlike the rest of Texas and is known for its lively music and arts scene. Towards the end of the year, Jen Griffiths will visit the great state of Texas, bringing Professor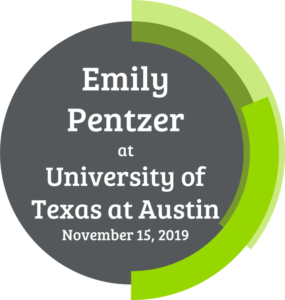 Emily Pentzer, who is moving to Texas A&M University over the summer of 2019, to the Department of Chemistry at the University of Texas at Austin. Prof. Pentzer is an Associate Editor for Polymer Chemistry, and she will present on her research, which focuses on synthetic organic and materials chemistry, and she will be part of an interactive presentation on publishing along with Jen. They will be joined by two of our Associate Editors for ChemComm from UT Austin, Professor Michael Krische, and Professor Jonathan Sessler. The Krische Research Group focuses on catalytic reaction development for natural product synthesis. You can get updates from the group by following @KrischeLab on Twitter. The Sessler Group explores various aspects of supramolecular chemistry and is highly interdisciplinary, combining inorganic and synthetic organic chemistry with biochemistry and spectroscopy. For updates from the Sessler Group, follow their Twitter account @JLsessler.
---
We are excited to highlight our high-quality journals, and we know that it's the people behind them that make them so valuable and integral to the communities they serve. We hope that you have a chance to get to know our Board Members in person at one of our upcoming events, and that what you learn from them helps you in publishing your own research.
Do you want to host an event at your institution, or have suggestions for how we could better connect with your community? While we can't accommodate all requests, we would love to hear from you and take your ideas into consideration! Email us at Americas-Editorial@rsc.org and we look forward to continuing to serve our community.