Brazil is a country made up of states that are sometime more like individual countries. Bahia state, Salvador city, has a different atmosphere, and being away from the usual southwest area gives the science community different opportunities for interaction. The Brazilian soul was there in Salvador, as well our historical beginning as a country, as the most prestigious Organic Synthesis Meeting in Brazil, 17th BMOS, supported by the Federal University of Bahia-UFBA was held there this year. The RSC Organic Division had a long lasting engagement with the organic synthesis community, organizing  the Young Investigator Award in the past. Because the RSC has a close relationship with the Science and Innovation Network in Brazil (SIN Brazil), we included the 17th BMOS in the 2018-2019 UK-Brazil Year of Science and Innovation, which we have embraced with them from the beginning. It was a big opportunity for us to keep the award alive. After a rebranding, the award was renamed BMOS-RSC Young Investigator Distinction, and captured the support of the GREAT campaign associated with the Year.
With this encouragement, we were able to offer four prizes, two each for young UK and Brazilian researchers, following early career request selection criteria. The BMOS organization made a huge celebration for that, and we had a whole slot in the event to talk about the importance of UK collaborations, the importance of internationalization and exposition of early career researchers.
One of the criteria for the selection was a collaboration statement between UK and Brazil researchers. We were able to show the Year launching video celebrating UK-Brazil collaboration efforts through the years. The video clearly highlights that collaborations truly make better science. The selected awardees received a certificate from Prof Jonathan Clayden beforehand, and had a slot to talk about their current research work.
 Prof Jonathan Clayden (University of Bristol, UK) was our star at the meeting. He came to give a closing talk after the awardees presentations, and he was available during the entire meeting to sign his famous, prestigious and landmark book, "Organic Chemistry".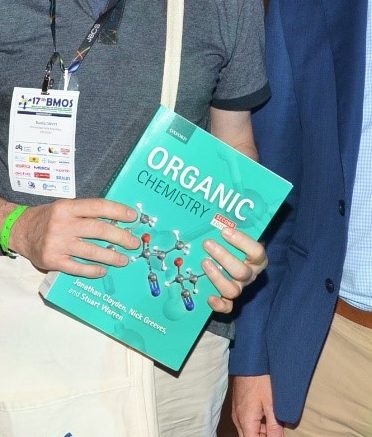 Finally, at the closing ceremony two PhD students, Edson Emilio Garambel Vilca and Renoto Zarzotto de Marais, were awarded RSC poster prizes from ChemComm and Organic & Biomolecular Chemistry by for their presentations.
This year, the 17th BMOS in Bahia was another great opportunity for the RSC to engage with the Brazilian community and collaborate with the Brazilian Chemical Society and the British Council for the UK-Brazil Year of Science and Innovation. We look forward to more opportunities to bring together researchers from diverse, international backgrounds and highlight the high quality research in Latin America to the world!