Faraday Discussions: No Ordinary Conference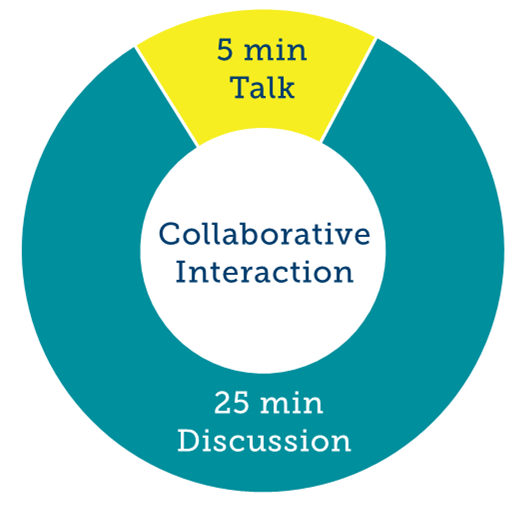 The Faraday Discussion conference series are true to name. They honor Michael Faraday, who made seminal contributions to electrochemistry. Each conference has a scientific committee that invites world-class speakers on a key topic focused on physical chemistry and interfacing fields. The Discussions part of the name reflects the core emphasis of the meeting with a 5-minute talk from a speaker, followed by 25 minutes of discussion.
Interactive Discussions: Key Messages in 5 Minutes
It may sound challenging to highlight a research project in 5 minutes, but it's possible since accepted speakers submit papers which are circulated to attendees in advance, with the expectation that attendees read all papers before arriving.
After the initial 5-minute talk, anyone can speak for up to 5 minutes. In the past, attendees have prepared comments, questions, and even short presentations of their own work to confirm or raise concerns about results.
Posters: Opportunity for Recognition
Attendees can also submit posters for consideration by the scientific committee. Once accepted, poster presenters can make contributions to the Discussion itself, including showing their own work if pertinent, and there are prizes to recognize exceptional work.
Faraday Discussions (The Journal): Keep the Conversation Going
Since not everyone can attend the meeting in person, the corresponding Faraday Discussions volume publishes all discussion remarks alongside the papers and poster title and abstracts. Updates and highlighted content can be found on the Faraday Discussions Blog.
2019 Faraday Discussion on Ultrafast Photoinduced Energy and Charge Transfer

Faraday Discussions are held all over the world, but the next meeting in the US takes place in Ventura in April 2019. The meeting broadly addresses critical challenges in ultrafast energy and charge transfer across four main themes:
energy and charge-transfer in natural photosynthesis

photovoltaics and bio-inspired light harvesting

photo-induced electron transfer

photo-protection/photo-damage in natural systems
The Committee organized the following distinguished speakers in the area, including Gordana Dukovic from University of Colorado Boulder, Advisory Board member for Sustainable Energy & Fuels; Greg Scholes from Princeton University, Advisory Board member for Materials Horizons and Chemical Science; and Emily Weiss from Northwestern University, Advisory Board member for Materials Horizons.

A Conversation with Committee Co-Chair, Professor Stephen Bradforth
We had a chance to hear from Committee Co-Chair Divisional Dean and Professor Stephen Bradforth, at University of Southern California, who shared his perspective.
What surprised you/was your favorite part about your first Faraday Discussion Meeting? What inspired you?
I attended my first Faraday Discussion at the University at Nottingham on the subject of Structure and Dynamics of Reactive Transition States.  For me, as a graduate student in Berkeley, it was a return to Britain after three scientifically rich years in California.  The format of the meeting was incredibly engaging.  Seeing names familiar from the literature as speakers wrestling with only 5 minutes to summarize their work! But immediately followed by an in-depth questioning and scholarly discussion of each speaker's written paper that revealed what was fact, what was conjecture and what simply wasn't known. It was invaluable for a student finding his feet in the field of physical chemistry.
Why did you decide to get involved and why do you think the topic of the meeting is timely?
I was persuaded by Mike Ashfold and Tom Oliver, with whom I had collaborated on two Faraday Discussion contributions over the years, that it was time to bring the Faraday Discussion to the west coast of the USA.  In fact, this is the first time an FD has been held west of Chicago, and about time too!  This meeting, on Photoinduced Charge and Energy Transfer, comes after a recent trans-disciplinary surge in activity to better understand solar energy conversion, both in natural photosynthetic systems and in man-made materials, spurred by the formidable energy challenge in front of us as a society.
"Attendees will gain a window on the array of contemporary advanced tools,
both experimental and theoretical, that are being developed to attack this scientific grand challenge"
–Committee Co-Chair Stephen Bradforth, Divisional Dean of Natural Sciences and
Professor of Chemistry at University of Southern California–
What do you hope prospective attendees will gain from the upcoming meeting?
The goal of the meeting is to bring together experts from several areas, spectroscopists, biophysicists, theoretical chemists, and materials scientists, to uncover the basic design principles for efficiently converting the energy delivered in a photon into useful chemical potential. And all while considering the potential photodamage to the molecular and nanoscale architectures employed.  FD attendees will gain a window on the array of contemporary advanced tools, both experimental and theoretical, that are being developed to attack this scientific grand challenge.

Welcoming You
The oral abstract deadline is approaching in July, but there is still time to submit either oral or poster abstracts. Monetary support in the form of travel grants of at least £200 are available for early-career RSC members (only £20 for students), within 10 years of completing their PhD or still students, as detailed in the bursary section of the website.
We hope you take advantage of the opportunity to share your ideas and connect with the community in a uniquely interactive meeting. Whether you're a spectroscopist, biophysicist, computational or theoretical chemist, physicist, or a material scientist working in photo-induced biomolecular and nanoscale dynamics, join us for the first Faraday Discussion in California.