Brazil has been the research centre of South America since the beginning of the 21st century and is responsible for more than 50% of chemistry papers published in Latin America. The Royal Society of Chemistry has been committed to fostering international collaborations for at least as long. Ties between UK and Brazilian researchers have become common, and it was a natural result to sign our first Memorandum of Understanding with the Brazilian Chemical Society (SBQ) in 2007, promoting and fostering collaborations. The MoU was renewed in 2012, and this May, the RSC and SBQ are signing an updated MoU that will incentivize UK and Brazilian researchers to participate in SBQ or RSC meetings, encourage inclusion and diversity and seek out joint third party activities.
In honour of this event, we have organized a special virtual issue highlighting collaborations between UK and Brazilian researchers. Articles from authors from 34 institutions in Brazil and 41 in the UK were selected, resulting in more than sixty articles on topics such as electroanalytical techniques, nanomaterials, catalysis, synthetic pathways and theoretical calculations, among others.
"The close ties and friendship between the SBQ and the Royal Society of Chemistry has helped foster many scientific collaborations and has brought scientists together to promote and share knowledge and ideas. Some of the results of these collaborations are now showcased in this web collection and we are immensely proud that these researchers chose to publish their work in our journals." said Emma Wilson, Director of Publishing, RSC
"I'm very satisfied to renew the SBQ/RSC partnership signing a new Memorandum of Understanding during the SBQ Annual Meeting in Foz do Iguaçu, as an official activity of the UK-Brazil Year of Science and Innovation. To celebrate, the editors of both RSC journals portfolio and the Journal of the Brazilian Chemical Society-JBCS decided to create themed issues. Each society selected scientific papers by authors from Brazil and UK. This is a great initiative, and the success is guaranteed. Congratulations to all the people engaged in actions to approximate SBQ and RSC much more, hence the Brazilian and the UK sciences." said Prof Aldo J G Zarbin, SBQ President
"Our future collaborations include a themed issue in the Royal Society of Chemistry journals portfolio and the JBCS of selected scientific papers shared by authors from Brazil and UK. I am also very much looking forward to formally renewing our partnership and friendship by signing our Memorandum of Understanding –  a welcome commitment between our two countries to collaborate further in the future for the benefit of chemistry and humanity." said Professor Dominic Tildesley Past President, Royal Society of Chemistry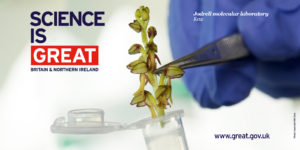 This themed issue will also celebrate the UK-BRAZIL Year of Science and Innovation 2018-2019, organized by the Science and Innovation Network Brazil (SIN). This initiative recognizes the significant increase in collaborations between the two countries and their resulting publications.
"The UK-Brazil Year of Science & Innovation is a celebration of current and new world class collaborations in global challenges including in energy, climate, biodiversity, agriculture and health & linked to our Industrial Strategy and Clean Growth Grand Challenge. I am thrilled that the Royal Society of Chemistry and Brazilian Chemical Society are a strong part of this Year" said Dr Julia Knights, Director of Science & Innovation at the British Embassy in Brasilia. Check the provisional UK-BR YoS&I program here.
We invite you to browse the collection to see what's been happening between Brazil and the UK since 2016.