Emerging Investigator: Guangfan Zheng
Position          Associate Professor

Education       2014–2017  Northeast Normal University                Ph.D.

                       2012–2014  Northeast Normal University                M.Sc.

                       2006–2010  Jilin University                                      B.Sc.

ORCID            0000-0003-0201-6279
Read Guangfan Zheng's Emerging Investigator Series article in Organic Chemistry Frontiers and learn more about him.
| | | |
| --- | --- | --- |
|   |   |   |
|   | Visible light-mediated NHC and photoredox co-catalyzed 1,2-sulfonylacylation of allenes via acyl and allyl radical cross-coupling |   |
| | | |
| | Visible light-mediated NHC and photoredox co-catalyzed radical 1,2-sulfonylacylation of allenes via cross-coupling between an allyl radical and an NHC-stabilized acyl radical. | |
| | | |
|   | From the themed collection: Frontiers Emerging Investigator Series |   |
|   | The article was first published on 03 Jan 2023 |   |
|   | Org. Chem. Front., 2023, 10, 1047-1055 |   |
|   | https://doi.org/10.1039/D2QO01993K |   |
|   |   |   |
My research interests
Key words:
NHC catalysis
,
radical chemistry
,
cascade reaction
,
asymmetric catalysis, photocatalysis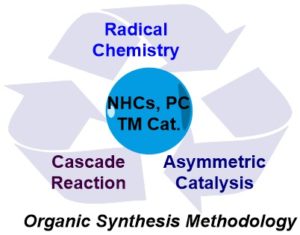 My research interests focus on the development of N-heterocyclic carbene (NHC)-catalyzed, or visible light-mediated novel radical transformation, cascade reactions and asymmetric catalytic reactions. Particularly, we aim to develop efficient and highly selective catalytic transformation of aldehyde or carboxylic acid derivatives (such as carboxylic acid, ester, acyl fluoride, or amides) accessing value-added chemicals. 
10 Facts about me
When I was a kid, I wanted to be
a scientist, as I enjoy new discoveries and challenges.
I published my first academic article in 2015 during my PhD studies in Nature Communications. This article demonstrates interesting and unpredictable N-centered radical addition to alkyne-initiated cascade transformations realizing animative muti-functionalization of alkynes.
The most challenging work about my research is to realize efficient asymmetric induction in NHC-catalyzed radical–radical cross-couplings.
In my spare time, I enjoy reading online novels.
My favorite science fiction novel is The Three-Body Problem.
The person who has had the greatest influence on my research career is my M.S. and Ph.D. supervisor Prof. Qian Zhang (Northeast Normal University). She was passionate about scientific research and was very inspiring.
The most important qualities of a role model are honesty, patience, and responsibility.
The most important thing I have learned is that opportunities are for those who are prepared.
I advise my students to keep enthusiasm and individual thinking about their research.
I lose track of time when discussing research progress and prospects with students.