by Robert Edkins
The RSC Photochemistry Group meeting was held from 14th-15th September 2017 at the University of Birmingham's Chemistry Department, attracting around 70 participants from across the UK and Ireland. The meeting was designed to be a forum for early career researchers (ECRs) in photochemistry to present their work in a relaxed setting and to network with other Group members. 15 ECRs gave oral presentations covering the full range of modern photochemistry in its widest sense. The talks were of outstanding quality and led to excellent discussions. It is clear that the field is alive with many up-and-coming researchers.
Supplementing the ECR talks were two Keynote Lectures by Helen Fielding (UCL) with her fascinating talk "Shedding new light on photochemistry in nature: biochromophores, protein chromophores and molecular motors" and by Photochemical and Photobiological Sciences Editor-in-Chief Dario Bassani (University of Bordeaux), who gave a stimulating lecture entitled "How to use supramolecular interactions to control excited states." Two further tutorial lectures with a more pedagogical feel from Rob Neely (University of Birmingham) on "The chemistry of super-resolution microscopy" and Stan Botchway (Central Laser Facility) on "Excited-state lifetime imaging in bio-medical applications" completed the very diverse and interesting programme.
(L to R) Dario Bassani and Helen Fielding deliver their Keynote Lectures
(L to R) Rob Neely and Stan Botchway deliver their Tutorial Lectures
The poster session with ca. 35 posters was well attended and generated lots of dialogue amongst the participants, which continued later on at the conference dinner held in Birmingham city centre. It was especially pleasing to see the engagement of the ECRs at these networking events, which hopefully has stimulated many new collaborations.
 
 
 
Early career researchers enjoying the poster sessions
Photochemical and Photobiological Sciences sponsored a prize for the best oral and best poster presentations. It was difficult to pick winners due to the extremely high standard of all of the presentations, but after much deliberation between the committee members, the oral prize was awarded to Dr Robert Godin of Imperial College London for his excellent talk entitled "Understanding Heterogeneous Photocatalysts By Time-Resolved Diffuse Reflectance Spectroscopy." The poster prize was awarded to Fiona Black of Newcastle University for her very engaging poster "Probing Charge-Transfer Dynamics Using Time-Resolved Spectroscopy." Congratulations Robert and Fiona!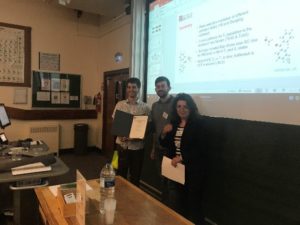 Robert Godin of Imperial College London receives the PPS Oral Presentation Prize
(L to R) Robert Godin (PPS Oral Prize winner), Robert Edkins (Organizer),  Zoe Pikramenou (Organizer)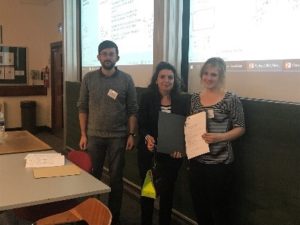 Fiona Black of Newcastle University receives the PPS Poster Presentation Prize
(L to R) Robert Edkins (Organizer), Zoe Pikramenou (Organizer), Fiona Black (PPS Poster Prize winner)
Two further poster prizes, sponsored by the RSC Photochemistry Group, were awarded to Yisu Wang from Cardiff University for a poster entitled "Novel plasmonic nanoparticles for applications in quantitative biosensing and bioimaging" and Huayun Shi from Warwick University for a poster on "Photoactive platinum anticancer complexes." Congratulations Yisu and Huayun!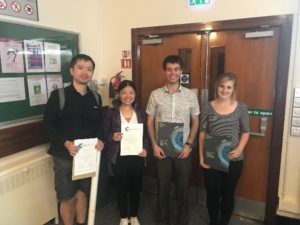 All of the RSC Photochemistry Meeting prize winners together
(L to R) Yisu Wang (RSC Photochemistry Group Poster Prize winner), Huayun Shi (RSC Photochemistry Group Poster Prize Winner), Robert Godin (PPS Oral Prize winner), Fiona Black (PPS Poster Prize winner)
The organizing committee (Zoe Pikramenou, University of Birmingham, and Dr Robert Edkins, University of Oxford) hope that all attendees of the meeting had an enjoyable and stimulating experience and we thank you all for your participation during the meeting. We also thank PPS for sponsoring the prizes as well as the Faraday Division for a small meeting grant, University of Birmingham for hosting the event, and Photonic Solutions for sponsoring the poster session.
We would like to take this opportunity to encourage you all to join the RSC Photochemistry Special Interest Group next time you renew your RSC membership and to follow us on Twitter @RSC_Photochem.