We are delighted to introduce you to Professor Yvonne Perrie, Editor-in-Chief of the new Royal Society of Chemistry journal RSC Pharmaceutics.
Yvonne Perrie is a Professor in Drug Delivery within the Strathclyde Institute of Pharmacy and Biomedical Sciences, University of Strathclyde, Scotland. Professor Perrie's research is multi-disciplinary and focuses on developing drug delivery systems to facilitate the delivery of drugs and vaccines, thus providing practical solutions for current healthcare problems. Read more on our webpage.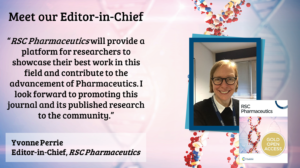 Read some of her research here:
The role of nanoparticle format and route of administration on self-amplifying mRNA vaccine potency
Giulia Anderluzzi, Gustavo Lou, Stuart Woods, Signe Tandrup Schmidt, Simona Gallorini, Michela Brazzoli, Russell Johnson, Craig W. Roberts, Derek T. O'Hagan, Barbara C. Baudner and Yvonne Perrie
J. Control. Release, 2022, 342, 388-399.
Mixing and flow-induced nanoprecipitation for morphology control of silk fibroin self-assembly
Saphia A. L. Matthew, Refaya Rezwan, Jirada Kaewchuchuen, Yvonne Perrie and F. Philipp Seib
RSC Adv., 2022, 12, 7357-7373.
RSC Pharmaceutics is a new gold open access journal leading the way in the field of Pharmaceutics. This journal publishes research focused on formulating a drug into a medicine, with the intention of achieving controllable drug delivery with high efficacy. Read our full scope statement on our webpage.
RSC Pharmaceutics opens for submissions later this year, sign up for e-alerts to be the first to find out news about the journal.