From design to synthesis, functionalization strategies and advanced characterizations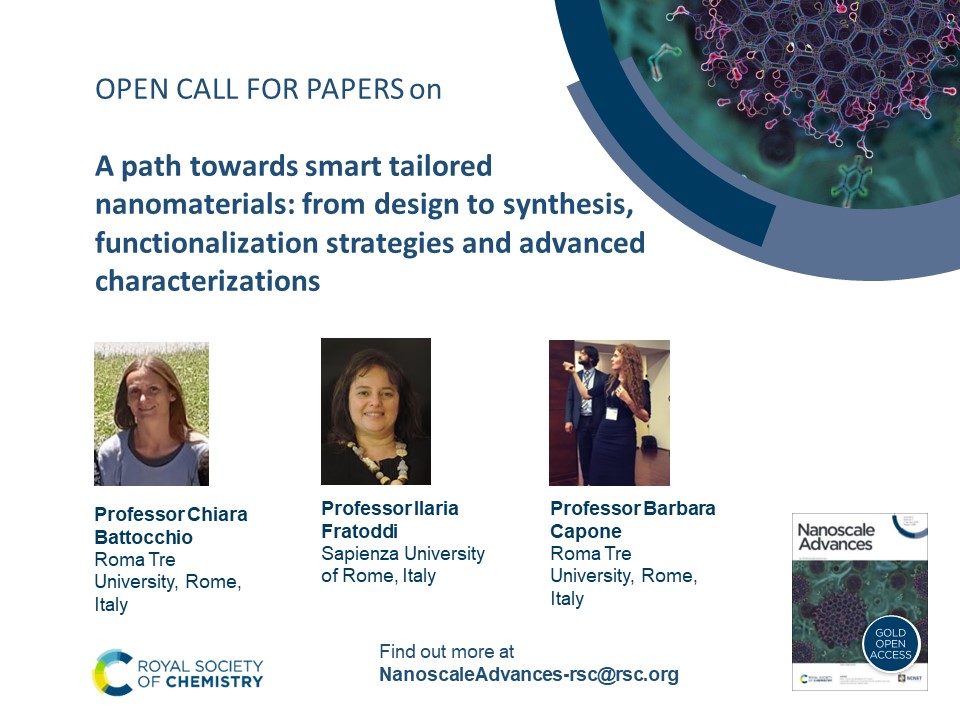 Guest Edited by Professor Chiara Battocchio (Roma Tre University, Rome, Italy), Professor Ilaria Fratoddi (Sapienza University of Rome, Italy) and Professor Barbara Capone (Roma Tre University, Rome, Italy).
Submit before 15 July 2023
In the last decades, a considerable effort has been focused on nanostructured materials (NMs), trying to find the correlation between structure and unexpected characteristics, which otherwise would not be possible at longer scales. NMs possess unique and widely tunable physicochemical properties, enabling unconventional applications to be achieved, ranging from nanomedicine, environmental science, catalysis to optoelectronics and energy conversion.
The design, synthesis and functionalization methods of NMs are oriented to a smart tailoring of the morpho-structural properties with the aim of improving their processability and applicability. However, the "perfect" material suitable for each application, requires precise control on the molecular and electronic structure as well as of the morphology of the nanomaterial.
Novel functionalised NMs require innovative design techniques, that foresee the creation of new paths where theoretical approaches walk side by side with modern synthetic methodologies and characterizations. The last decades saw the rise of theoretical and computational as a powerful tool to either predict on a mesoscopic scale (coarse graining, multiscale) the main features that would optimise the functionalisation of the designed materials, or to focus on very specific (atomistic) mechanisms unveiling the origins of specific properties in the materials.
Among others, the wet synthesis methods of nanomaterials possess a unique versatility to obtain different shapes, sizes and external functionalizing layers, which in turn prove to be an easy path for the customization of their properties.
Recently, the possibility to conjugate spectroscopic techniques with microscopy at nanometric level, as for example by combining X-ray spectroscopy with electron microscopy (SPELEEM), elicits a huge interest. Another issue that is having a very big development is the possibility to carry on X-ray photoemission experiments in non-UHV conditions, as in near ambient photoelectron spectroscopy (NAP), using a cell or an electrospray beam of nanoparticles in solution.
This collection focuses on the design, synthesis and advanced characterizations of functional NMs, e.g. metal, metal oxides, and hybrid nanoparticles by means of state-of-the-art spectroscopic and imaging techniques.
You are welcome to submit an original research article within the scope.
If you are interested in contributing to this collection please get in touch with the Editorial Office by email.
Manuscripts should be submitted via the Royal Society of Chemistry's online submission service and the Editorial Office informed by email. Please add a "note to the editor" in the submission form when you submit your manuscript to say that this is a submission for the themed collection. The Editorial Office and Guest Editors reserve the right to check suitability of submissions in relation to the scope of the collection and inclusion of accepted articles in the collection is not guaranteed. All manuscripts will be subject to the journal's usual peer review process. Accepted manuscripts will be added to the online collection as soon as they are online, and they will be published in a regular issue of Nanoscale Advances.
Please note that article processing charges apply to all articles submitted to Nanoscale Advances if, following peer-review, they are accepted for publication. Details of the APC and discounted rates can be found here.