Call For Papers: Bionanocomposites
Guest edited by Sabu Thomas, Aji Mathew, and Maya John
We are delighted to announce a call for papers for our latest online themed collection in Nanoscale Advances on Nanobiocomposites that is being guest edited by Professor Sabu Thomas (Mahatma Gandhi University, India), Professor Aji Mathew (Stockholm University, Sweden),  and Dr Maya John (CSIR, Pretoria, South Africa).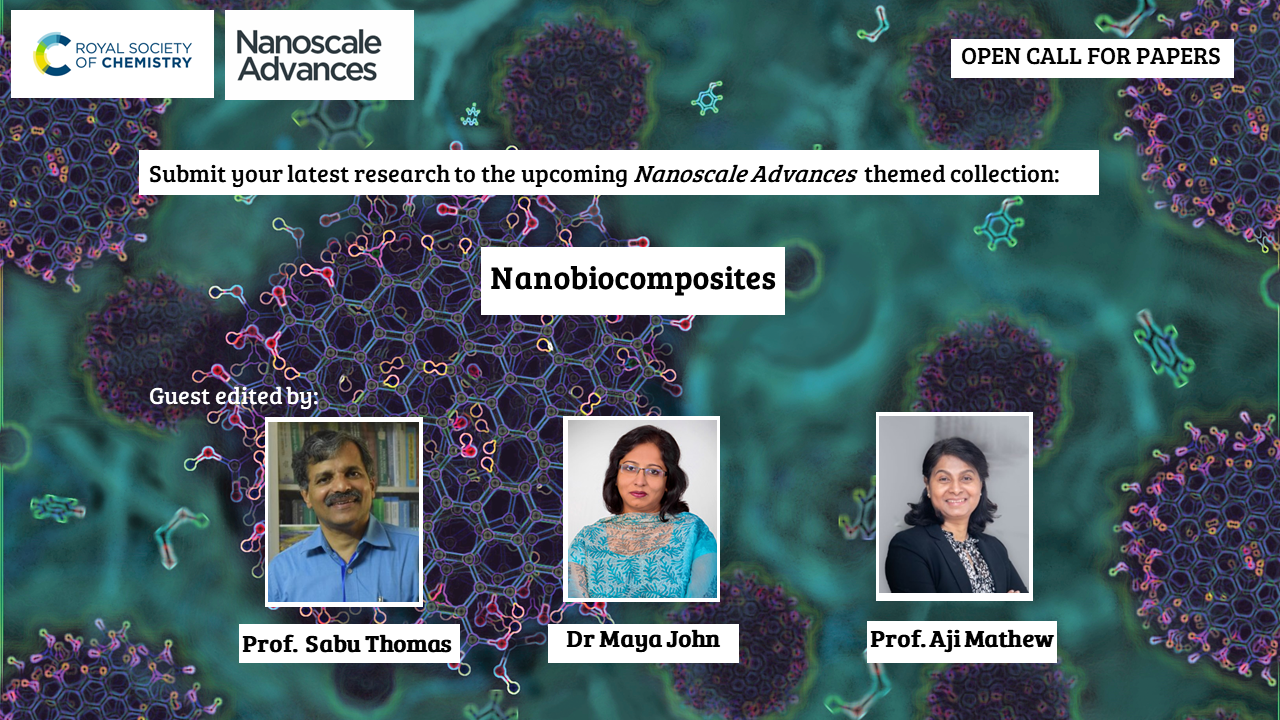 In this collection we welcome articles on the following topics:
Sources, extraction, and manufacturing of bio-based nanocomposites
Processing of bio-based nanocomposites
Engineered bio-based nanostructures
Characterisation of bionanocomposites
Morphology of bionanocomposites
End-use applications
Scale-up
LCA and recycling
Open for submissions until 15 August, 2023
If you would like to contribute to this themed collection, you can submit your article directly through the Nanoscale Advances online submission service and inform the Editorial Office by email.  Please mention that this submission is a contribution to the Nanobiocomposites collection in the "Themed issues" section of the submission form and add a "Note to the Editor" that this is from the Open Call. The Editorial Office reserves the right to check suitability of submissions in relation to the scope of both the journal and the collection, and inclusion of accepted articles in the final themed issue is not guaranteed.
Please also note that all submissions will be subject to initial assessment and rigorous peer review to meet the usual high standards of the journals and acceptance is not guaranteed. Accepted manuscripts will be added to the online collection as soon as they are online, and they will be published in a regular issue of Nanoscale Advances. Please note that article processing charges apply to all articles submitted to Nanoscale Advances if, following peer-review, they are accepted for publication. Details of the APC and discounted rates can be found here.
If you have any questions about the journal or the collection, you can contact us by emailing the journal inbox.
With best wishes,
Professor Sabu Thomas, Mahatma Gandhi University, India
Professor Aji Mathew, Stockholm University, Sweden
Dr Maya John, CSIR, Pretoria, South Africa