Top articles from NCNST
Celebrating NCNST's 20th anniversary by highlighting some of their best research and reviews
In celebration of the 20th anniversary of the National Center for Nanoscience and Technology (NCNST) in China and to highlight the strong connection between Nanoscale Horizons, Nanoscale, Nanoscale Advances and the institute we wanted to showcase some of the most exceptional research and reviews that have been published in the journals by NCNST researchers over the years since their launch in partnership with NCNST.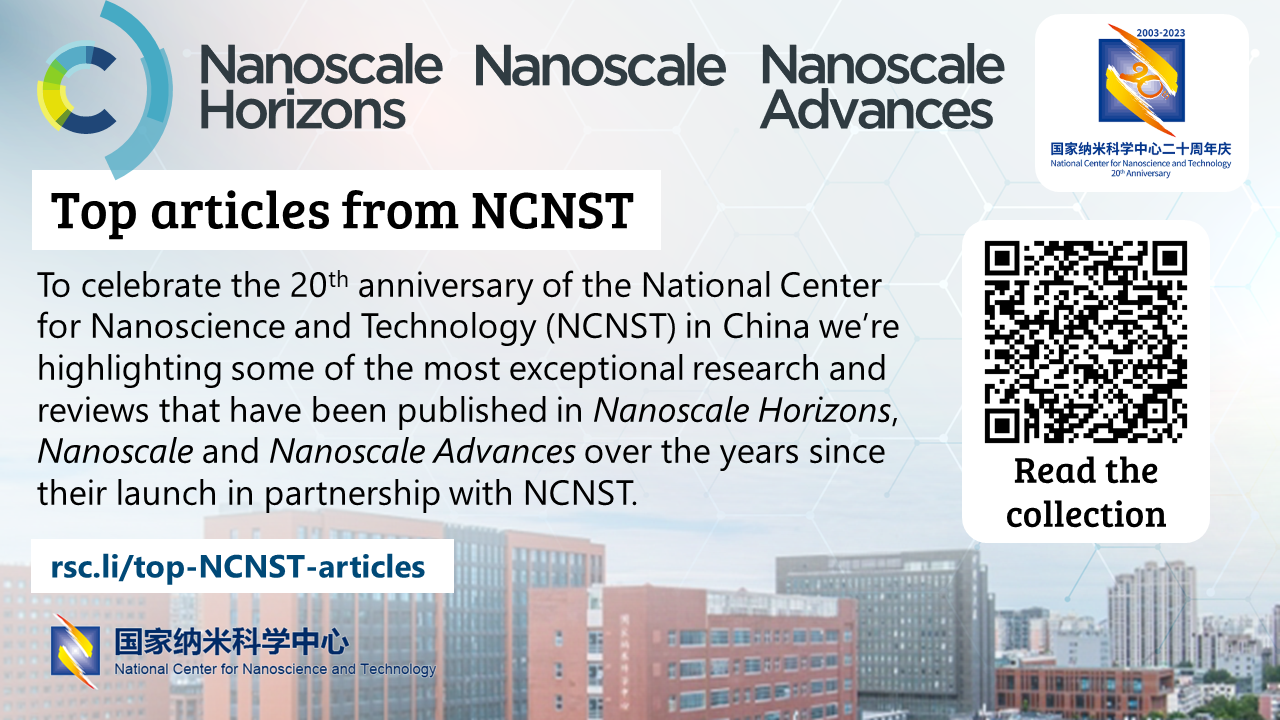 The collection features some of the most cited articles from each year, some of the most popular articles and some of the most recent publications from NCNST in the nanoscale family of journals.
Read some of the featured articles below.
Gold nanoparticles for the colorimetric and fluorescent detection of ions and small organic molecules
Dingbin Liu, Zhuo Wang and Xingyu Jiang
Nanoscale, 2011, DOI: 10.1039/C0NR00887G
Visible light driven type II heterostructures and their enhanced photocatalysis properties: a review
Yajun Wang, Qisheng Wang, Xueying Zhan, Fengmei Wang, Muhammad Safdar and Jun He
Nanoscale, 2013, DOI: 10.1039/C3NR01577G
An 80.11% FF record achieved for perovskite solar cells by using the NH4Cl additive
Chuantian Zuo and Liming Ding
Nanoscale, 2014, DOI: 10.1039/C4NR02425G
Fe3O4–Pd Janus nanoparticles with amplified dual-mode hyperthermia and enhanced ROS generation for breast cancer treatment
Xiaowei Ma, Yanyun Wang, Xiao-Li Liu, Huijun Ma, Galong Li, Yao Li, Fei Gao, Mingli Peng, Hai Ming Fan and Xing-Jie Liang
Nanoscale Horiz., 2019, DOI: 10.1039/C9NH00233B
Single atomic Fe–N4 active sites and neighboring graphitic nitrogen for efficient and stable electrochemical CO2 reduction
Leta Takele Menisa, Ping Cheng, Xueying Qiu, Yonglong Zheng, Xuewei Huang, Yan Gao and Zhiyong Tang
Nanoscale Horiz., 2022, DOI: 10.1039/D2NH00143H
Versatile fabrication of metal sulfide supraparticles by an in situ decomposition–assembly strategy
Menglei Wang, Fulin Jia, Jianxiao Gong and Yunsheng Xia
Nanoscale Adv., 2023, DOI: 10.1039/D2NA00747A
We hope you enjoy reading this collection and look forward our continued partnership with NCNST and to sharing more work from the institute with you in the future.