Call For Papers: Fundamental processes in optical nanomaterials
Guest edited by Arindam Chowdhury, Eva Hemmer, Alison Funston and Jon Veinot ‬‬
We are delighted to announce a call for papers for our latest online themed collection in Nanoscale and ChemComm on Fundamental processes in optical nanomaterials that is being guest edited by Professor Arindam Chowdhury (IIT Bombay, India), Dr Alison Funston (Monash University, Australia),  Professor Eva Hemmer (University of Ottawa, Canada) and Professor Jonathan Veinot (University of Alberta, Canada).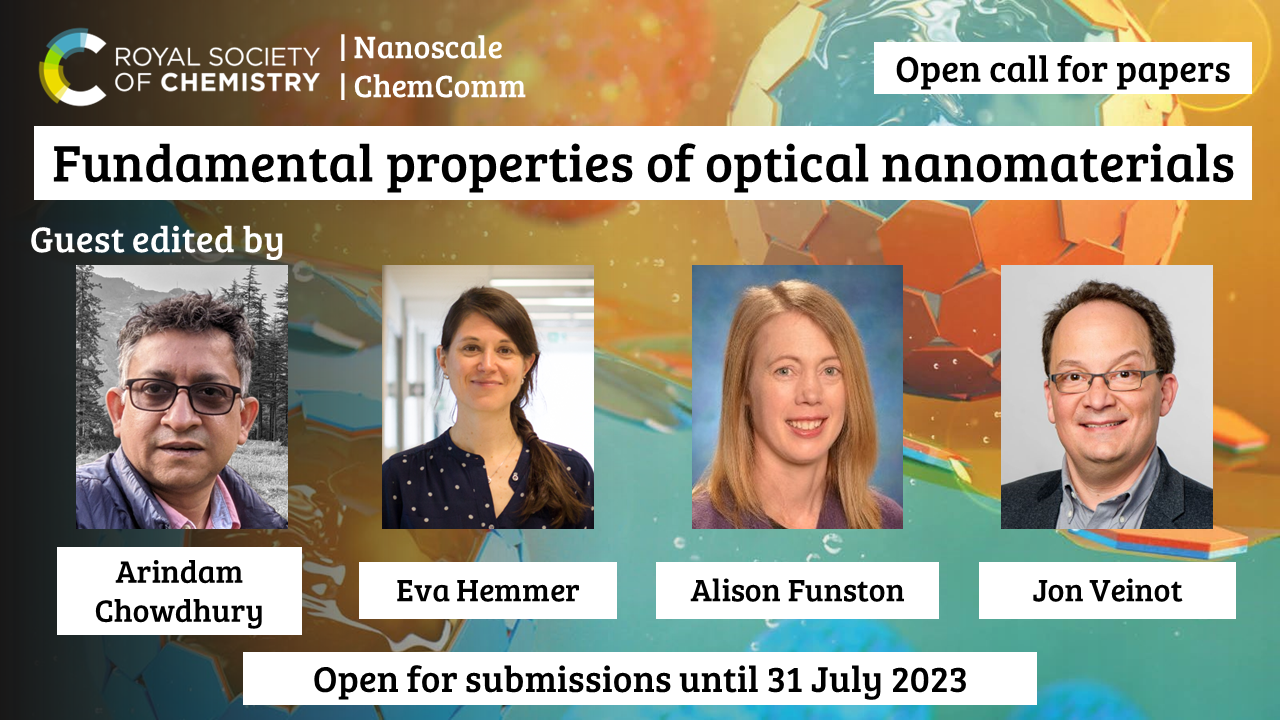 Advanced optical nanomaterials are the building block to innovative technologies that have the potential to address societal challenges from energy to health. Optical nanomaterials offer solutions to more efficient energy harvesting and energy conversion technologies, to enhanced data storage and fast and secure telecommunication, or to more efficient and personalized biomedical approaches, to name just a few examples. To achieve the goal of real-life applications, better understanding of known processes and the discovery of new fundamental phenomena is key.
This special cross-journal collection in Nanoscale and ChemComm aims to look at new phenomena in optical nanomaterials, without the need for applications to be fully realized. We hope to feature research reporting new processes, phenomena and observations, and applications are welcomed but we are also excited to see reports of new and interesting fundamental science. Potential topics include but are not limited to:
Luminescent materials
Scattering materials
Metamaterials
Plasmonics
Nanophotonics
Fundamental processes in optical materials (although applications can be included)
New techniques or methods of analysis
Spectroscopy of materials
Single-particle imaging
Light interaction with nanomaterials in tissues
This call for papers is open for the following article types:
Communications
Full papers
Open for submissions until 31 July 2023
If you would like to contribute to this themed collection, you can submit your article directly through the Nanoscale online submission service. or the ChemComm online submission service. Please mention that this submission is a contribution to the Fundamental processes in optical nanomaterials collection in the "Themed issues" section of the submission form and add a "Note to the Editor" that this is from the Open Call. The Editorial Office reserves the right to check suitability of submissions in relation to the scope of both the journal and the collection, and inclusion of accepted articles in the final themed issue is not guaranteed.
Please also note that all submissions will be subject to initial assessment and rigorous peer review to meet the usual high standards of the journals and acceptance is not guaranteed.
If you have any questions about the journal or the collection, then Edward Gardner, the Development Editor for Nanoscale, would be happy to answer them. You can contact him by emailing the journal inbox.
With best wishes,
Professor Arindam Chowdhury, IIT Bombay, India
Dr Alison Funston, Monash University, Australia
Professor Eva Hemmer, University of Ottawa, Canada
Professor Jonathan Veinot, University of Alberta, Canada