Call For Papers: Micro- and Nano-Motors
Guest edited by Martin Pumera, Xing Ma, Samuel Sánchez Ordóñez and Li Zhang ‬‬
We are delighted to announce a call for papers for our latest online themed collection in Nanoscale and Journal of Materials Chemistry B (JMC B) on Micro- and nano-motors that is being guest edited by Professor Martin Pumera (University of Chemistry and Technology Prague, Czech Republic), Professor Xing Ma (Harbin Institute of Technology, China),  Professor Samuel Sánchez Ordóñez (Institute for Bioengineering of Catalonia, Spain) and Professor Li Zhang (Chinese University of Hong Kong, Hong Kong).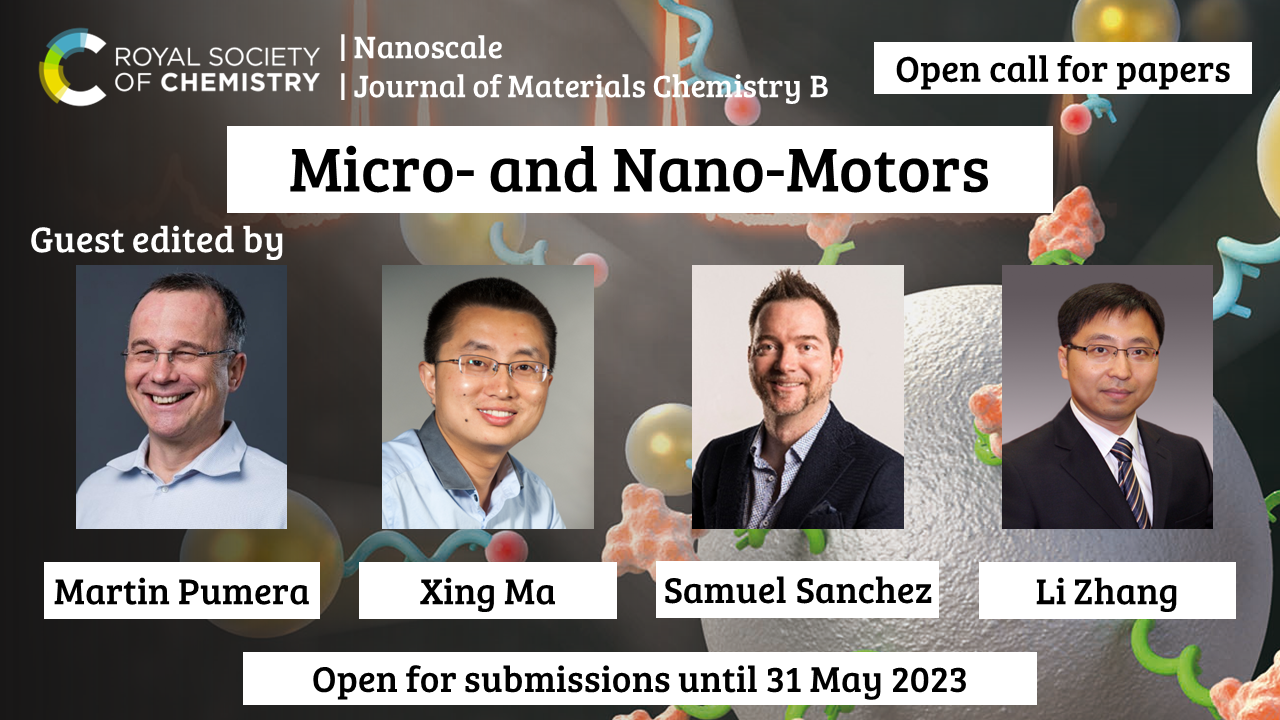 Micro/nano-motors (MNMs) are miniaturized devices or structures that can covert other forms of energy harnessed from the surrounding environment into mechanical motion. As an emerging technology with a highly multidisciplinary nature, MNMs involve research efforts from materials science, physics, chemistry, biomedical engineering, etc., and in virtue of their small size and controllable mobility, they have demonstrated revolutionary potential in sensing, biomedicine and environmental applications among others.
This cross-journal collection in Nanoscale and JMC B focuses on the use of micro- and nanorobots for a variety of applications. It is dedicated to the state of the art of micro- and nanomachines, with emphasis on the design and fabrication, propulsion mechanism, imaging, safety, and application of micro- and nano-motors in a variety of fields. This special collection aims to encourage research collaboration across fields to address critical challenges and promote the development of advanced MNMs towards practical and even clinical scenarios. Potential topics of this collection include but are not limited to:
Design and fabrication of micro/nano-motors
Fundamental understanding of micro/nano-motor systems
Micro/nano materials or devices for analytical sensing
Propulsion mechanism and motion control of micro/nano-motors
Environmental applications of micro/nano-motors
Micro/nano-motors for biomedicine
Biocompatibility and biosafety of micro/nano-motors
Bioimaging and in vitro / in vivo tracking of micro/nano-motors
Biosensing micro/nano-motors
Disease diagnosis enabled by micro/nano-motors
Drug delivery using micro/nano-motors
MNM-based therapeutic treatment
Biofilm removal and beyond with micro/nano-motors
This call for papers is open for the following article types:
Communications
Full papers
Open for submissions until 31 May 2023
If you would like to contribute to this themed collection, you can submit your article directly through the Nanoscale online submission service. or the JMC B online submission service. Please mention that this submission is a contribution to the Micro- and nano-motors collection in the "Themed issues" section of the submission form and add a "Note to the Editor" that this is from the Open Call. The Editorial Office reserves the right to check suitability of submissions in relation to the scope of both the journal and the collection, and inclusion of accepted articles in the final themed issue is not guaranteed.
Please also note that all submissions will be subject to initial assessment and rigorous peer review to meet the usual high standards of the journals and acceptance is not guaranteed.
If you have any questions about the journal or the collection, then Edward Gardner, the Development Editor for Nanoscale, would be happy to answer them. You can contact him by emailing the journal inbox.
With best wishes,
Professor Martin Pumera (University of Chemistry and Technology Prague, Czech Republic)
Professor Xing Ma (Harbin Institute of Technology, China)
Professor Samuel Sánchez Ordóñez (Institute for Bioengineering of Catalonia, Spain)
Professor Li Zhang (Chinese University of Hong Kong, Hong Kong)