An infographic highlighting gelatin-based nanoprobes that can detect cancerous cells during image-guided surgery
Protease-activated indocyanine green nanoprobes for intraoperative NIR fluorescence imaging of primary tumors
Kyekyoon (Kevin) Kim, Viktor Gruev, Hyungsoo Choi et al.
Nanoscale Adv., 2022,4, 4041-4050, DOI: 10.1039/d2na00276k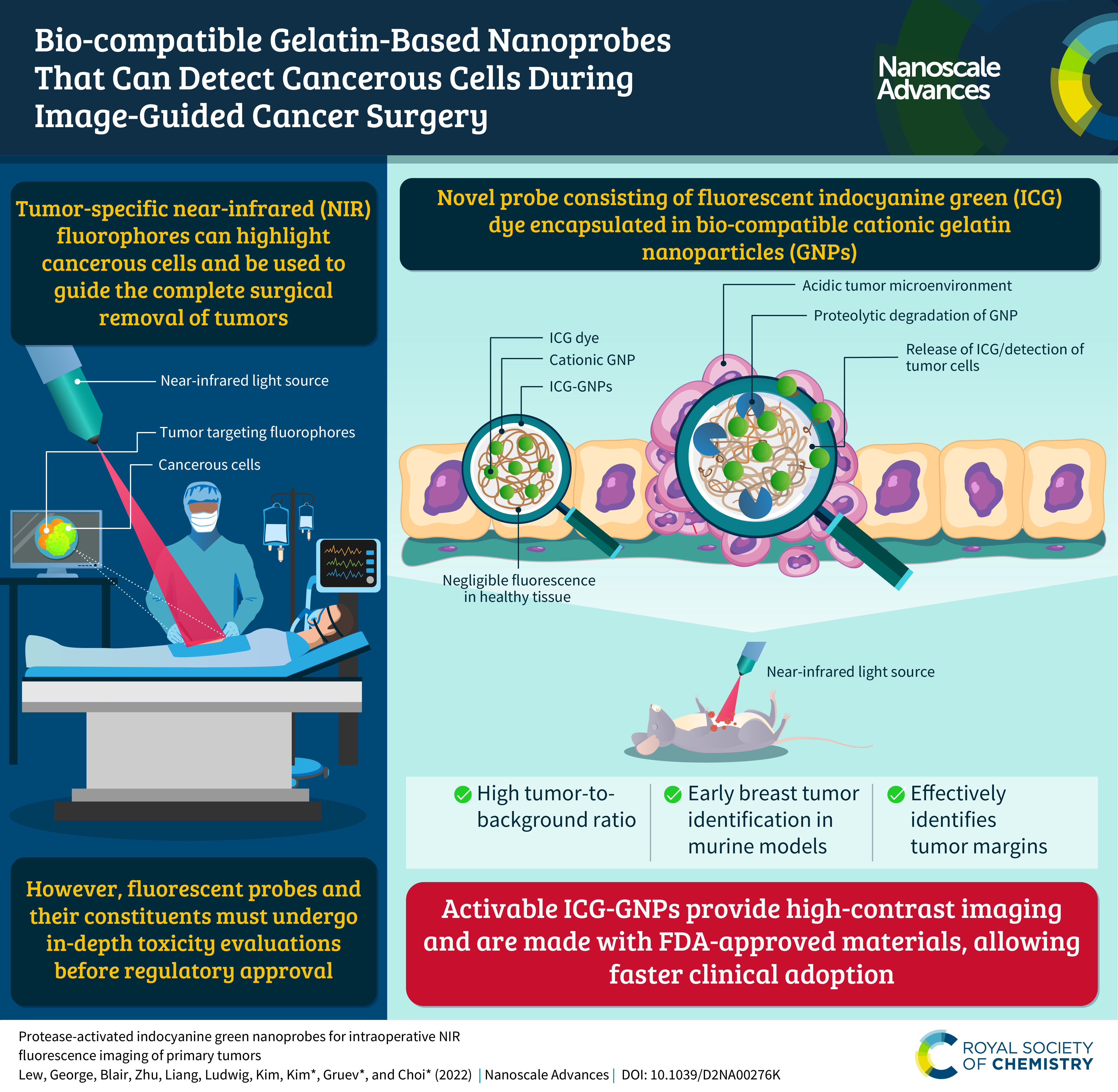 Meet the authors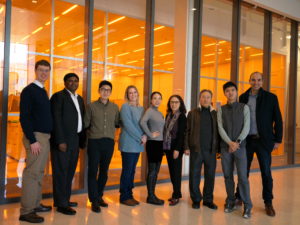 This article reports the collaborative efforts of two research laboratories: Thin Film and Charged Particles (TFCP) Research Lab (PIs. Kyekyoon (Kevin) Kim and Hyungsoo Choi) and Biosensors Lab (PI. Viktor Gruev) at the University of Illinois at Urbana-Champaign. TFCP Lab consists of multidisciplinary biomedical researchers formulating versatile biomaterial-based micro/nanoparticles incorporating drugs, fluorophores, and live-cells for various biomedical applications including the treatment of type-1 diabetes, ischemic stroke, and cancer. The scientists in Biosensors Lab are developing novel bio-inspired imaging technologies, highly sensitive and capable of differentiating multiple tumor-specific fluorophores, to provide surgeons with enhanced intraoperative imaging experiences during cancer surgery.
(a) What aspect of your work are you most excited about at the moment and what do you find most challenging about your research?
The exciting part is having opportunities to collaborate with many experts from different fields of science and engineering. The harmonious teamwork and support allow us to explore new ideas and conduct innovative research. The challenging part is finding the balance between innovation and clinical translation. Novelty in research offers new insights, but that wouldn't necessarily lead to it being clinically acceptable. To ensure that we are doing translational research, we have to consider its relevance and applicability to patient-oriented healthcare.
(b) How do you feel about Nanoscale Advances as a place to publish research on this topic?
Nanoscale Advances is one of the fastest-growing journals, encompassing a wide scope of topics in nanotechnology. With that being said, we are excited to be able to showcase our work on such a platform.