Design and Function of Materials Nanoarchitectonics
Guest edited by Katsuhiko Ariga and Omar Azzaroni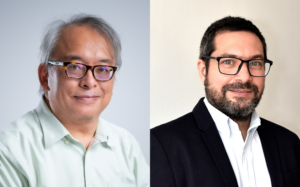 We are delighted to introduce a new themed online collection published in Nanoscale and Nanoscale Advances on nanoarchitectonics. This collection is dedicated to the creation of functional materials using nanoscale component units, encompassing fields such as nanostructured materials synthesis, supramolecular assembly, nanoscale structural fabrications, and materials hybridizations.
Here is a selection of articles from this collection. Many of the articles in this collection are gold open access and so they are free to access. The other articles have been made free to access until the end of November 2022.
Nanoarchitectonics for conductive polymers using solid and vapor phases
Yuya Oaki and Kosuke Sato
Nanoscale Adv., 2022, DOI: 10.1039/D2NA00203E
Controlled formation of carbon nanotubes incorporated ceramic composite granules by electrostatic integrated nano-assembly
Hiroyuki Muto, Yusaku Sato, Wai Kian Tan, Atsushi Yokoi, Go Kawamura and Atsunori Matsuda
Nanoscale, 2022, DOI: 10.1039/D2NR01713J
Egg-yolk core–shell mesoporous silica nanoparticles for high doxorubicin loading and delivery to prostate cancer cells
Steffi Tiburcius, Kannan Krishnan, Linta Jose, Vaishwik Patel, Arnab Ghosh, C. I. Sathish, Judith Weidenhofer, Jae-Hun Yang, Nicole M. Verrills, Ajay Karakoti and Ajayan Vinu
Nanoscale, 2022, DOI: 10.1039/D2NR00783E
Find out more about nanoarchitectonics in Nanoscale Horizons Outstanding Review by Professor Katsuhiko Ariga: Nanoarchitectonics: what's coming next after nanotechnology?
We hope you enjoy reading this collection.