Call For Papers: Halide Perovskite Optoelectronics
Guest edited by Lakshminarayana Polavarapu, Maria Antonietta Loi, Haibo Zeng and Joseph M. Luther
We are delighted to announce a call for papers for our latest online themed collection in Nanoscale on Halide Perovskite Optoelectronics that is being guest edited by Dr Lakshminarayana Polavarapu (University of Vigo, Spain), Professor Maria Antonietta Loi (University of Groningen, Netherlands), Professor Haibo Zeng (Nanjing University, China) and Dr ‪Joseph M. Luther (National Renewable Energy Laboratory, USA‬).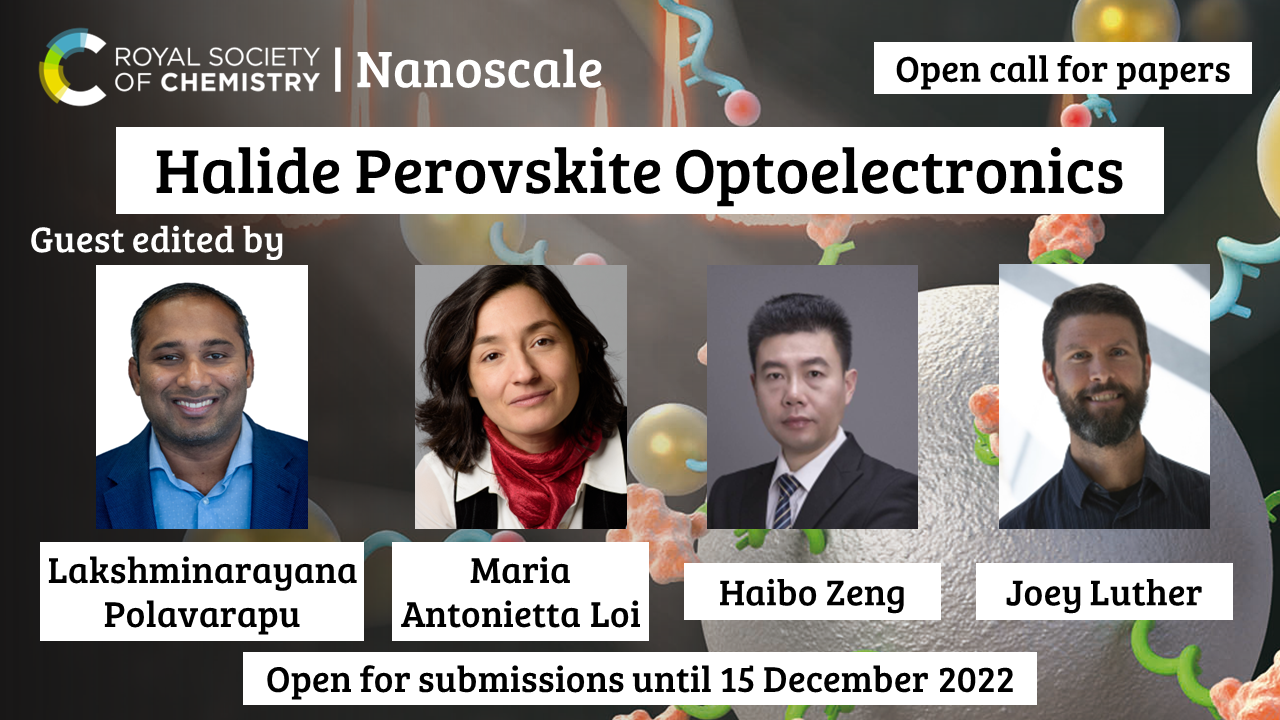 Over the past decade, metal halide perovskites, both in the form of thin films and colloidal nanocrystals (NCs), have emerged as a leading candidate for optoelectronic applications because of their exciting properties including defect tolerance, long charge carrier diffusion lengths, high photoluminescence quantum yield, and facile fabrication using relatively low-cost precursors. We have witnessed a steep increase in the efficiency of perovskite optoelectronic devices such as solar cells, LEDs, and photodetectors in a short development time. Despite tremendous success in achieving efficiencies as high as those of classical semiconductors such as silicon and metal chalcogenides, perovskite optoelectronics are still suffering from long-term chemical and operational stability along with toxicity and scalability to large-area devices. Currently, perovskites (bulk and nanocrystals) and corresponding devices are undergoing further optimization regarding the composition of A, B, and X sites, surface passivation, optimization of the device architectures, interfaces, and charge transport layers, and their encapsulation. This special themed collection aims to provide a platform for the latest developments that address the challenges of halide perovskite optoelectronics. The topics of this collection, include but are not limited to,
Composition engineering of bulk perovskite thin films for improving phase stability
Synthesis of stable perovskite NCs by composition engineering, doping, and passivation
Stable layered 2D (Ruddlesden–Popper (RP)) perovskite optoelectronics (solar cells LEDs, photodetectors, etc.)
Perovskite solar cells with improved chemical and long-term stability, and efficiency
Defect passivation of perovskite solar cells and LEDs
Lead-free perovskite optoelectronics
Device encapsulation
Large-area devices
This call for papers is open for the following article types:
Communications
Full papers
Open for submissions until 15th December 2022
If you would like to contribute to this themed issue, you can submit your article directly through the journal's online submission service. Please mention that this submission is a contribution to the Halide Perovskite Optoelectronics collection in the "Themed issues" section of the submission form and add a "Note to the Editor" that this is from the Open Call. The Editorial Office reserves the right to check suitability of submissions in relation to the scope of both the journal and the collection, and inclusion of accepted articles in the final themed issue is not guaranteed.
Please also note that all submissions will be subject to initial assessment and rigorous peer review to meet the usual high standards of Nanoscale and acceptance is not guaranteed.
If you have any questions about the journal or the collection, then Edward Gardner, the Development Editor for Nanoscale, would be happy to answer them. You can contact him by emailing the journal inbox.
With best wishes,
Dr Lakshminarayana Polavarapu, University of Vigo, Spain
Professor Maria Antonietta Loi, University of Groningen, Netherlands
Professor Haibo Zeng, Nanjing University, China
Dr ‪Joseph M. Luther, National Renewable Energy Laboratory, USA‬