Call For Papers: Nanomaterials for Printed Electronics
Guest edited by Cinzia Casirgahi, Oana Jurchescu, Shlomo Magdassi and Wenming Su
We are delighted to announce a call for papers for our latest online themed collection in Nanoscale on Nanomaterials for Printed Electronics that is being guest edited by Professor Cinzia Casiraghi, (University of Manchester, UK), Professor Oana Jurchescu (Wake Forest University, USA), Professor Shlomo Magdassi (Hebrew University of Jerusalem, Israel) and Professor Wenming Su (Suzhou Institute of Nano-Tech and Nano-Bionics, China).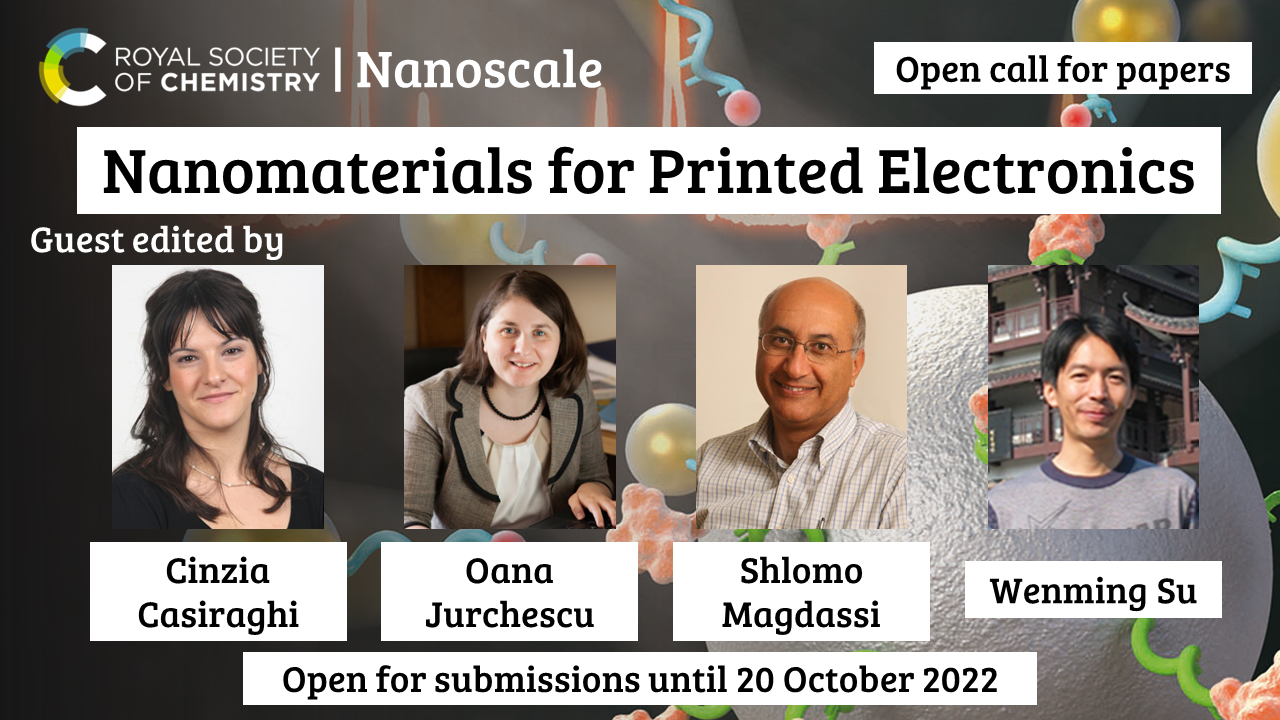 Nanomaterials present unique physicochemical properties that make them perfect to be used as functional inks for the fabrication of printed devices. This collection brings together different types of nanomaterials for printed electronics (organic, inorganic, hybrids, etc.) and provides an overview on the most used technologies for printed electronics, with the aim of connecting different communities and identifying common challenges in the field.
This call for papers is open for the following article types:
Communications
Full papers
Open for submissions until 20th October 2022
If you would like to contribute to this themed issue, you can submit your article directly through the journal's online submission service. Please mention that this submission is a contribution to the Nanomaterials for Printed Electronics collection in the "Themed issues" section of the submission form and add a "Note to the Editor" that this is from the Open Call. The Editorial Office reserves the right to check suitability of submissions in relation to the scope of both the journal and the collection, and inclusion of accepted articles in the final themed issue is not guaranteed.
Please also note that all submissions will be subject to initial assessment and rigorous peer review to meet the usual high standards of Nanoscale.
If you have any questions about the journal or the collection, then Edward Gardner, the Development Editor for Nanoscale, would be happy to answer them. You can contact him by emailing the journal inbox.
With best wishes,
Professor Cinzia Casiraghi, University of Manchester, UK
Professor Oana Jurchescu, Wake Forest University, USA
Professor Shlomo Magdassi, Hebrew University of Jerusalem, Israel
Professor Wenming Su, Suzhou Institute of Nano-Tech and Nano-Bionics, China