Microchip-Based Toolkit to Complement Protein Analysis Using Cryo-Electron Microscopy
An infographic highlighting the structure determination of proteins including the first antibody binding site on the SARS-CoV-2 nucleocapsid (N) protein
We would like to share an infographic highlighting the excellent work by Deborah F. Kelly et al. on a microchip-based toolkit that performs complementary structural and biochemical analysis on low-molecular weight proteins alongside cryo-EM! Check out the infographic below to learn more or get the full story from their Nanoscale article.
Microchip-based structure determination of low-molecular weight proteins using cryo-electron microscopy
Michael A. Casasanta, G. M. Jonaid, Liam Kaylor, William Y. Luqiu, Maria J. Solares, Mariah L. Schroen, William J. Dearnaley, Jarad Wilson, Madeline J. Dukes and Deborah F. Kelly
Nanoscale, 2021, DOI: 10.1039/D1NR00388G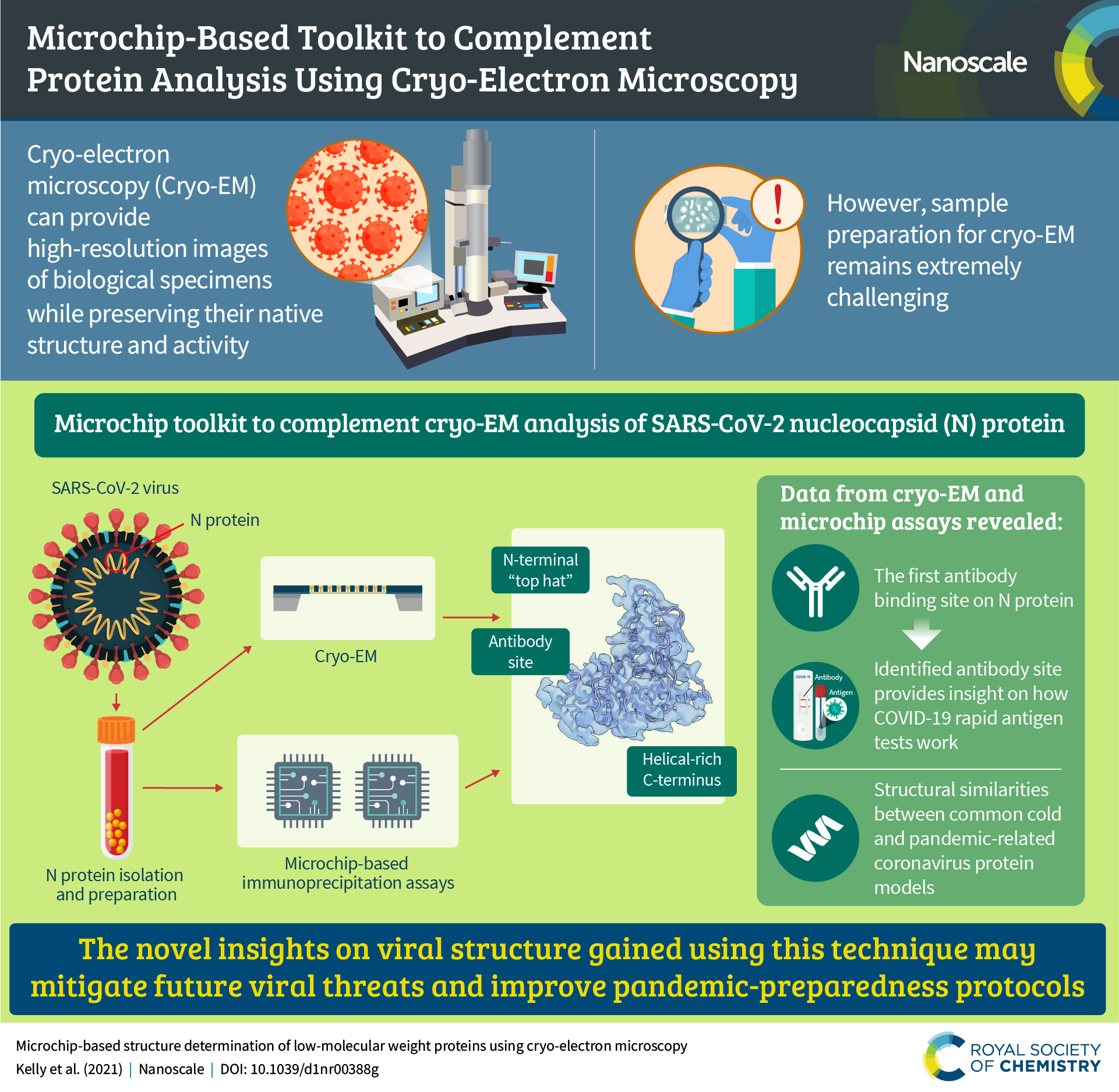 Meet the authors
Michael Casasanta
Dr Michael Casasanta completed his PhD in Biochemistry at Virginia Tech and his post-doctoral training in Biomedical Engineering at Penn State University. Dr. Casasanta is currently a Senior Scientific Consultant working in the Boston area.
Deb Kelly
Dr Deb Kelly is a professor of Biomedical Engineering at Penn State University and the president-elect of the Microscopy Society of America. She directs the Center for Structural Oncology at the Huck Institutes of the Life Sciences where she holds the Lloyd and Dottie Foehr Huck Chair in Molecular Biophysics. Dr. Kelly co-leads the Next-Generation Therapies research program at the Penn State Cancer Institute and also holds an appointment in the Materials Research Institute.