Dr Dong Qin joins the Associate Editor team
Welcome to Nanoscale and Nanoscale Advances!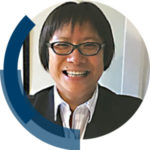 We are delighted to welcome Dr Dong Qin, Georgia Institute of Technology, USA, as a new Associate Editor working across Nanoscale and Nanoscale Advances.
What attracted you to pursue a career in nanoscience and how did you get to where you are now?
After my PhD study on the fundamental work of gas phase spectroscopy, I was very fortunate to have an opportunity to work on soft lithography as a postdoctoral fellow with Professor George M. Whitesides at Harvard University back in 1997. I am in debt to George who brought me to this fascinating world of nanoscale science where I enjoyed the research in the field of nanostructures and nanomaterials with a solid training as a physical chemist. I had been doing independent work in building the research infrastructure for nanoscale science and engineering from 1997-2011, during which I witness the progress of the field. When I finally returned back to academia in 2012, I decided to start my own research in the field of nanoscale nanomaterials, metal nanocrystals, with my keen focus on the optical properties for the development of in situ methodology to characterize the catalytically significant interface by fingerprinting spectroscopy. It has been a rewarding journey at Georgia Tech as I renowned my passion in both nanoscale science and spectroscopy.
What is the most exciting research paper that you have read recently?
Single atom catalysis! Questions remain on the ability to probe single atom and we are part of the efforts to address this challenge at the moment.
What is your biggest passion outside of science?
Free-lance writing!
What career would you have chosen if you had not taken this career path?
 An educator – I have enormous passion in teaching! Students in my classes will not only learn knowledge but also my positive attitude toward life in broad.
Why should young people study chemistry?
Chemistry introduces the smallest building blocks, atoms, which are essential in building structure-property relationship of materials in our daily life!
Please join us in welcoming Dr Qin to Nanoscale and Nanoscale Advances!
Best wishes,
Dr Charlotte Marshall                          Dr Ania Rulka
Managing Editor, Nanoscale                  Executive Editor, Nanoscale Advances