Spectroscopy and scattering for chemistry
New possibilities and challenges with large scale facilities
Guest edited by Kirsten M. Ø. Jensen, Serena DeBeer and Dorota Koziej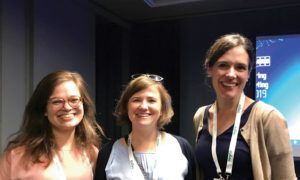 We are delighted to introduce a new themed online collection featuring new studies taking advantage of in situ synchrotron and neutron techniques. The wide variety of methods and approaches to data analysis applied illustrates the many options synchrotron and neutron methods now provide to chemists.
Here are a selection of articles from this collection. All articles are free to access until the end of November 2020.*
Applications of pair distribution function analyses to the emerging field of non-ideal metal–organic framework materials
Celia Castillo-Blas, José María Moreno, Ignacio Romero-Muñiz and Ana E. Platero-Prats
Nanoscale, 2020, DOI: 10.1039/D0NR01673J
Selective magnetometry of superparamagnetic iron oxide nanoparticles in liquids
Juliusz Kuciakowski, Angelika Kmita, Dorota Lachowicz, Magdalena Wytrwal-Sarna, Krzysztof Pitala, Sara Lafuerza, Dorota Koziej, Amélie Juhin and Marcin Sikora
Nanoscale, 2020, DOI: 10.1039/D0NR02866E
Surface softening in palladium nanoparticles: effects of a capping agent on vibrational properties
Luca Rebuffi, Binayak Mukherjee, Stefano Siboni, Allison P. Young, Benjamin P. Williams, Chia-Kuang Tsung and Paolo Scardi
Nanoscale, 2020, DOI: 10.1039/D0NR00182A
We hope you enjoy reading this collection.
* Free access to articles via your free Royal Society of Chemistry publishing personal account