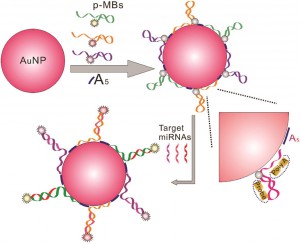 Researchers from Chinese Academy of Sciences have investigated the use of molecular beacons (MBs) for the simultaneous detection of multiple microRNA (miRNA) biomarkers.
The MBs were immobilized onto gold nanoparticles (AuNPs) via poly-adenine (poly-A) spacer. In addition, the authors used short oligonucleotides (oligos) consisting of 5 As in order to fill the gaps between MBs on the AuNP surface to ensure stability in salt solutions and obtain greater fluorescence signals.
MBs with 3 different fluorophores were employed in order to enable multiplexed detection of miRNAs in simulated serum samples. The authors reported that each MB specifically bound to its corresponding miRNA target in the presence of 10% fetal bovine serum (FBS), thereby demonstrating the applicability of this method for real biological sample detection.
In recent years, miRNA has emerged as a potential biomarker for many types of diseases, such as cancer, neurological disorders and cardiovascular disease. The need for rapid and sensitive assays for miRNA detection is therefore of great interest. Wang et al. have demonstrated a step in this direction with the research presented here.
Elaborately designed diblock nanoprobes for simultaneous multicolor detection of microRNAs
Chenguang Wang, Huan Zhang, Dongdong Zeng, Wenliang Sun, Honglu Zhang, Ali Aldalbahi, Yunsheng Wang, Lili San, Chunhai Fan, Xiaolei Zuo and Xianqiang Mi
Nanoscale, 2015,7, 15822-15829, DOI: 10.1039/C5NR04618A
Dr Lee Barrett is a guest web writer for the Nanoscale blog. Lee is currently a postdoctoral researcher in the Centre for Molecular Nanometrology at the University of Strathclyde. His research is currently focused on the development of nanoparticle-based sensors and surface enhanced Raman scattering (SERS). Follow him on twitter @L_Bargie