Nanoscale themed collection: Dendritic polymers for smart drug delivery applications
Guest Editors: Marcelo Calderón (Freie Universität Berlin, Germany) and Jayant Khandare (Maharashtra Institute of Pharmacy, Pune, India)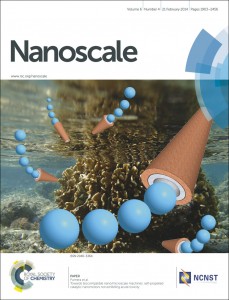 We are delighted to announce a themed collection on "Dendritic polymers for smart drug delivery applications", to be published in Nanoscale in early 2015. The collection will be Guest Edited by Professors Marcelo Calderón and Jayant Khandare. We welcome your high quality research contributions for this exciting collection.
Hyperbranched polymeric materials at nanoscale dimensions have concomitantly broadened the field of biomedical applications. Dendritic polymers are classified as: (a) perfect dendrimers, (b) dendrons, (c) dendronized polymers, and (d) hyperbranched polymers. Perfect dendrons and dendrimers are unique nanosystems because they can be expected to achieve monodispersity, nanometer dimensions, low viscosity, multiple functionality at the terminal groups, high solubility, and biocompatibility.
Dendritic polymer architectures show significant advantages over linear polymers for many delivery applications. For example, the defined multivalency of dendrimers can be used to encapsulate or conjugate multiple drug molecules while allowing the controlled addition of targeting, imaging probes, and/or solubilizing modalities. The synergy between their multifunctionality and size on the nanoscale enables a chemical smartness along their molecular scaffold that achieves environmentally sensitive modalities. Therefore these functional materials can be expected to continue improving the existing therapeutic practice.
This themed collection will include high quality articles highlighting developments in the field of dendritic polymers, their applications as controlled delivery of drugs and for diagnostic implications.
Deadline for Submission: 4th July 2014
All submissions to the journal are subject to rigorous, fair peer review against our usual very high standards, and if accepted for publication will benefit from high exposure.
Manuscripts for this Nanoscale themed collection can be submitted in any reasonable format via our online submission service. Please indicate upon submission that your manuscript is intended for this themed collection.
If you are interested in submitting a review-type article please get in touch at nanoscale-rsc@rsc.org