Nanoscale is delighted to welcome Dr Xiaodong Chen as a new Associate Editor.
Dr Chen is an Associate Professor at Nanyang Technological University in Singapore. His research focuses on developing integrated sytems at the nano-bio interface for monitoring, manipulating, and mimicking biological processes at the nanoscale and exploring programmable nanoscale modules for energy conversion.
So you can see for yourself the quality of work in Nanoscale, we have collected together some recent articles in Dr Chen's exciting research fields, with a selection available to read for free for a limited period.
The nano-bio interface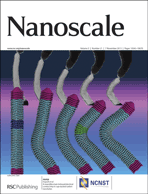 Bio-inspired magnetic swimming microrobots for biomedical applications
Kathrin E. Peyer, Li Zhang and Bradley J. Nelson
DOI: 10.1039/C2NR32554C, Feature Article
Supramolecular self-assemblies as functional nanomaterials
Eric Busseron, Yves Ruff, Emilie Moulin and Nicolas Giuseppone
DOI: 10.1039/C3NR02176A, Review Article
Biomimetic graphene films and their properties
Yong-Lai Zhang, Qi-Dai Chen, Zhi Jin, Eunkyoung Kim and Hong-Bo Sun
DOI: 10.1039/C2NR30813D, Feature Article
Lanthanide-doped luminescent nano-bioprobes: from fundamentals to biodetection
Yongsheng Liu, Datao Tu, Haomiao Zhu, En Ma and Xueyuan Chen
DOI: 10.1039/C2NR33239F, Feature Article
Bioinspired design and macroscopic assembly of poly(vinyl alcohol)-coated graphene into kilometers-long fibers
Liang Kou and Chao Gao
DOI: 10.1039/C3NR00455D, Paper
Plasmon enhanced upconversion luminescence of NaYF4:Yb,Er@SiO2@Ag core–shell nanocomposites for cell imaging
Peiyan Yuan, Yih Hong Lee, Muthu Kumara Gnanasammandhan, Zhenping Guan, Yong Zhang and Qing-Hua Xu
DOI: 10.1039/C2NR31241G, Paper
Photo-switched self-assembly of a gemini α-helical peptide into supramolecular architectures
Chang-Sheng Chen, Xiao-Ding Xu, Shi-Ying Li, Ren-Xi Zhuo and Xian-Zheng Zhang
DOI: 10.1039/C3NR01967E, Communication
Energy Conversion
Free-standing one-dimensional plasmonic nanostructures
Lin Jiang, Yinghui Sun, Fengwei Huo, Hua Zhang, Lidong Qin, Shuzhou Li and Xiaodong Chen
DOI: 10.1039/C1NR11445J, Feature Article
Recent advances in solar cells based on one-dimensional nanostructure arrays
Miao Yu, Yun-Ze Long, Bin Sun and Zhiyong Fan
DOI: 10.1039/C2NR30437F, Review Article
Power conversion efficiency enhancement based on the bio-inspired hierarchical antireflection layer in dye sensitized solar cells
Hyo-Jin Ahn, Sun-I Kim, Jong-Chul Yoon, Jung-Soo Lee and Ji-Hyun Jang
DOI: 10.1039/C2NR31214J, Communication
Bio-inspired Antireflective Hetero-nanojunctions with Enhanced Photoactivity
Dianpeng Qi, Liyan Zheng, Xue Cao, Yueyue Jiang, Hongbo Xu, Zhang YanYan, Bingjie Yang, Yinghui Sun, Huey Hoon Hng, Nan Lu, Lifeng Chi and Xiaodong Chen
DOI: 10.1039/C3NR04011A, Paper
Bio-nanohybrids of quantum dots and photoproteins facilitating strong nonradiative energy transfer
Urartu Ozgur Safak Seker, Evren Mutlugun, Pedro Ludwig Hernandez-Martinez, Vijay K. Sharma, Vladimir Lesnyak, Nikolai Gaponik, Alexander Eychmüller and Hilmi Volkan Demir
DOI: 10.1039/C3NR01417G, Paper
Functionalization of nanomaterials by non-thermal large area atmospheric pressure plasmas: application to flexible dye-sensitized solar cells
Heesoo Jung, Jaeyoung Park, Eun Sang Yoo, Gill-Sang Han, Hyun Suk Jung, Min Jae Ko, Sanghoo Park and Wonho Choe
DOI: 10.1039/C3NR01889J, Paper
Spherical TiO2 aggregates with different building units for dye-sensitized solar cells
Zhaohui Liu, Xunjia Su, Genliang Hou, Song Bi, Zhou Xiao and Haipeng Jia
DOI: 10.1039/C3NR01767B, Paper
Nanorainforest solar cells based on multi-junction hierarchical p-Si/n-CdS/n-ZnOnanoheterostructures
Wei Wang, Qing Zhao, Kevin Laurent, Y. Leprince-Wang, Zhi-Min Liao and Dapeng Yu
DOI: 10.1039/C1NR11123J, Paper
To access any of our free content you need to register for a free personal RSC Publishing account, and then login using your details. You will find our registration page here ….
To read more exciting research articles visit our Nanoscale website. You can also follow us on Facebook and Twitter (@nanoscale_rsc).