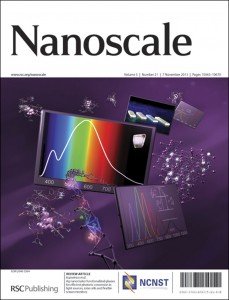 Nanoscale is delighted to present its current issue.
Ag nanocluster functionalized glasses for efficient photonic conversion in light sources, solar cells and flexible screen monitors is the article highlighted on the outside front cover byA. S. Kuznetsov, V. K. Tikhomirov, M. V. Shestakov and V. V. Moshchalkov.
The inside front cover features an article on A reversible strain-induced electrical conductivity in cup-stacked carbon nanotubes by Takuya Hayashi, Thomas C. O'Connor, Katsuhisa Higashiyama, Kohei Nishi, Kazunori Fujisawa, Hiroyuki Muramatsu, Yoong Ahm Kim, Bobby G. Sumpter, Vincent Meunier, Mauricio Terrones and Morinobu Endo.
Issue 21 contains the following Review, Feature, Mini review articles:
Nanoscale resistive switching devices: mechanisms and modeling
Yuchao Yang and Wei Lu
Synthesis of nanostructured materials in inverse miniemulsions and their applications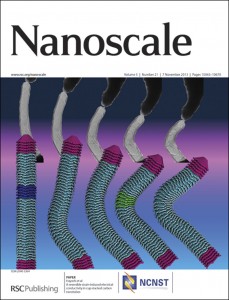 Zhihai Cao and Ulrich Ziener
Graphene for energy solutions and its industrialization
Di Wei and Jani Kivioja
Plasmonic nanoprobes: from chemical sensing to medical diagnostics and therapy
Tuan Vo-Dinh, Andrew M. Fales, Guy D. Griffin, Christopher G. Khoury, Yang Liu, Hoan Ngo, Stephen J. Norton, Janna K. Register, Hsin-Neng Wang and Hsiangkuo Yuan
Point-of-care nucleic acid detection using nanotechnology
Mark R. Hartman, Roanna C. H. Ruiz, Shogo Hamada, Chuanying Xu, Kenneth G. Yancey, Yan Yu, Wei Han and Dan Luo
Plant mediated green synthesis: modified approaches
Ratul Kumar Das and Satinder Kaur Brar