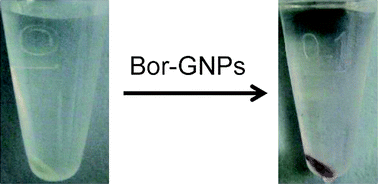 HOT Nanoscale Communication
Scientists in China have developed a sensitive method for detecting the bacteria Staphylococcus aureus which is a major cause of food poisoning as well as community- and hospital-acquired infections.
The researchers functionalized gold nanoparticles with phenylboronic acid which could react with the cis-diol groups found on the bacteria's surface, causing a detectable colour change.
Using this method they could detect the bacteria down to a concentration of 50 cells per mL.
Read the full exciting Nanoscale communication now:
Phenylboronic acid functionalized gold nanoparticles for highly sensitive detection of Staphylococcus aureus
Jine Wang, Jingqing Gao, Dianjun Liu, Dongxue Han and Zhenxin Wang
DOI: 10.1039/C2NR11657J