Materials Horizons are delighted to welcome Professor Guoping Chen from the National Institute for Materials Science in Japan to the Editorial Board as a Scientific Editor.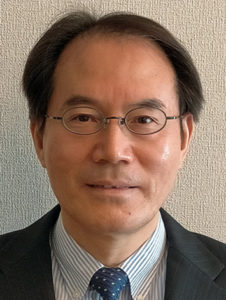 Guoping Chen is a Group Leader at the National Institute for Materials Science (NIMS) and a Professor at the University of Tsukuba. He received his Ph.D. from Kyoto University in 1997 majoring in polymer biomaterials and did postdoctoral research until 2000. He joined the Tissue Engineering Research Center, National Institute for Advanced Industrial Science and Technology as a Researcher in 2000 and a Senior Researcher in 2003. He moved to the Biomaterials Center, NIMS as a Senior Researcher in 2004 and was promoted to Group Leader in 2007. He served as a Principal Investigator and Unit Director of the International Center for Materials Nanoarchitectonics (MANA), NIMS from 2011 to 2017. He concurrently joined the Joint Doctoral Program in Materials Science and Engineering, University of Tsukuba as an Associate Professor in 2004 and a Professor in 2013. He is a Fellow of the Royal Society of Chemistry (FRSC, 2015), the American Institute for Medical and Biological Engineering (AIMBE, 2017) and the International Union of Societies for Biomaterials Science and Engineering (FBSE, 2020). His research focuses on biomaterials, scaffolds, biomimetic matrices, micro-patterning, surface modification, tissue engineering, regenerative medicine and nanomedicine.
Check out Guoping Chen's lab webpage here to find out more about his research.
Guoping Chen joins the Materials Horizons Editorial Board after previously having an Associate Editor role on Journal of Materials Chemistry B and Materials Advances. To mark this transition, he has selected some outstanding recent articles and reviews on the topic of tissue engineering across Materials Horizons, Journal of Materials Chemistry B and Materials Advances. We welcome you to read this Editor's Choice collection on tissue engineering and check out the Editorial written by Guoping Chen to introduce the collection.
Read our interview below to find out more about Guoping:
1. What attracted you to pursue a career in materials science and how did you get to where you are now?
I have been interested in almost anything since I was a kid. I could imagine something that I did not know or had never seen. Such curiosity had driven me to show more interest on materials science after entering high school. During college study, I spent a lot of time doing experiments. By doing experiments, I found materials science more and more interesting. So, I decided to enter materials science field when I entered graduate school in 1986. Since then, I have been involved in this field for more than 36 years. Now, doing scientific experiments to synthesize new materials and to discover new phenomena has become one of my interests. My curiosity and persistence have brough many benefits to my research career.
2. Why did you choose to specialize in your specific research field?
From 1994 to 1997, I did my Ph.D. study at Department of Materials Chemistry of Kyoto University majoring in biomaterials. After graduation, I got two offers. One was tissue engineering research and the other was synthesis of stimuli-responsive polymers and actuators. I chose the first one because I thought I could challenge more new things in the interdisciplinary field of materials science and biological science. So, I joined the tissue engineering research group of a national research institute. Since then, I have been enjoying working in the field.
3. What do you see as the biggest challenges facing researchers who work in your field?
Many advanced approaches have been developed for regeneration of functional tissues and organs through materials science, biomimetics, synthetic chemistry, biomechanics and cell biology. In some cases, very complicated approaches have been proposed and used. Sometimes I think the system of our body may not be as complex as we think. There may be some switches to reveal the simple way that our body uses to assemble all cells and components together into functional tissues and organs. Finding the switches and learning from the natural assembly clues to create multi-functional biomaterials and scaffolds may be the biggest challenges in my research field.
4. What do you see as the most important scientific achievement of the last decade?
I think it is CRISPR gene editing. It provides a cheap and easy way to precisely edit DNA. It is attractive for the treatment of refractory diseases such as cancer, HIV and genetic diseases.
5. What excites you most about your area of research and what has been the most exciting moment of your career so far?
Multi-functional scaffolds are amusing because they are similar to the housing where cells live. They can provide a variety of physicochemical, biological, biomechanical and therapeutic signal and factors to guide functional tissue regeneration, to maintain cellular homeostasis and to treat diseased cells. The most exciting moment for me was in 2000 when I succeeded in preparing hybrid scaffolds of biodegradable synthetic polymers and naturally derived polymers. The hybrid scaffolds have high mechanical strength and good biocompatibility and can be used for regeneration of large tissues such as large cartilage for treatment of osteoarthritic cartilage defects. The research had been introduced twice by Nature BioNews.
6. What is your favourite reaction or material, and why?
Biomimetic materials are very attractive to me. If we can mimic the compositions, structures and processes of tissue and organ development, we can more easily control cell functions and tissue regeneration.
7. The Journal of Materials Chemistry B and Materials Advances Editorial Boards are sad to see you leave but are excited for your new role. What will you miss most about being an Associate Editor on Journal of Materials Chemistry B and Materials Advances?
I'm really proud to have joined the editorial team to work for Journal of Materials Chemistry B for nine years shortly after the JMC split and to work for Materials Advances since its launch. I appreciate the strong support and help from the great team. I am very happy to have worked with all colleagues. I had a lot of happy times and good memories during the daily editorial work, the editorial board meetings in Cambridge and RSC Editors' Symposium in London. I have had many opportunities to communicate with our authors and reviewers. I will miss them very much. I hope they will continue to support the journals by publishing their excellent research achievements in the journals and providing excellent reviewing services for the journals.
8. What attracted you to join the Editorial Board of Materials Horizons?
I often read the articles published in Materials Horizons. The high quality of the articles has given me an impression that the editorial team is always doing a great job to edit the best articles for the readers. Now I am very happy to join the team to make some contributions.
9. The Materials Horizons team are delighted to welcome you to the Editorial Board. What are you most looking forward to when acting as a Scientific Editor for the journal?
I will fully use my previous editorial experience to provide the best service to satisfy our authors and readers.
10. What is your biggest passion outside of science?
I like jogging and cooking. After my daily work, I go jogging in a park at night. It is my happiest moment because I can relax more and think of some new research ideas while enjoying the natural night view. If time permits, I also cook because cooking is like doing chemical experiments. There are raw materials, processes and final products. There are a lot of fun.
11. Why should young people study chemistry or related subjects?
Chemistry can help us to understand the essence of nature and to synthesize novel and functional compounds and materials for innovation. Chemistry is the fundamental and central science for many fields including materials science and biological science.
12. What impact do you feel that your area of research can make over the next 10 years?
Many new techniques such as biomimetics, bioprinting and hybridization have been developed for scaffold preparation and functionalization. Advanced scaffolds with more biomimetic structures and functions will be achieved for the regeneration of not only simple tissues, but also complex organs. Multi-functional scaffolds will provide synergistic effects of different therapeutic treatments and regenerative approaches.
Please join us in welcoming Professor Guoping Chen to the Materials Horizons Editorial Board. We encourage you to submit your best work to Guoping and our team of Scientific Editors now! Check out the Materials Horizons author guidelines for more information on our article types.