We are delighted to welcome a new Community Board member to Materials Horizons – join us in welcoming Weilai Yu to the journal!!
The Materials Horizons Community Board is made up of early career researchers, such as PhD students and postdocs, that are fundamental in the future development of the materials field.
We are pleased to welcome Weilai Yu to this outstanding group of early career researchers.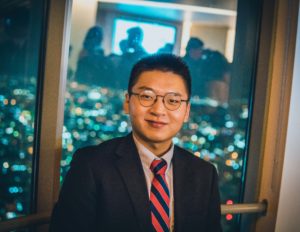 Weilai Yu, Stanford University, USA
ORCID: 0000-0002-9420-0702
Dr. Weilai Yu is currently a postdoc scholar of Chemical Engineering at Stanford working with Prof. Zhenan Bao. In 2021, he obtained his Ph.D in Chemistry at Caltech working with Prof. Nathan S. Lewis. His research interests include solar fuels, electrochemistry, Li battery and materials interface.
Connect with Weilai on Twitter: @yuweilai93 
Check out Weilai's most recent publications in the Royal Society of Chemistry:
Catalytic open-circuit passivation by thin metal oxide films of p-Si anodes in aqueous alkaline electrolytes
Harold J. Fu, Pakpoom Buabthong, Zachary Philip Ifkovits, Weilai Yu, Bruce S. Brunschwig and Nathan S. Lewis
Energy Environ. Sci., 2022,15, 334-345, DOI: 10.1039/D1EE03040J
Investigations of the stability of etched or platinized p-InP(100) photocathodes for solar-driven hydrogen evolution in acidic or alkaline aqueous electrolytes
Weilai Yu,  Matthias H. Richter,  Pakpoom Buabthong, Ivan A. Moreno-Hernandez, Carlos G. Read, Ethan Simonoff, Bruce S. Brunschwig and Nathan S. Lewis
Energy Environ. Sci., 2021,14, 6007-6020, DOI: 10.1039/D1EE02809J
Investigations of the stability of GaAs for photoelectrochemical H2 evolution in acidic or alkaline aqueous electrolytes
Weilai Yu, Matthias H. Richter, Ethan Simonoff, Bruce S. Brunschwig and Nathan S. Lewis
J. Mater. Chem. A, 2021,9, 22958-22972, DOI: 10.1039/D1TA04145B