Computational discovery of promising new n-type dopable ABX Zintl thermoelectric materials
An infographic highlighting the computational prediction of new thermoelectric materials
We are delighted to share with you an infographic highlighting the fantastic work by Prashun Gorai et al. on the computational prediction of new thermoelectric materials using a chemical replacements in structure prototype (CRISP) approach! Check out the infographic below to learn more or get the full story from their Materials Horizons article linked below.
This article was featured in our Emerging Investigator series, find out more about this series here and check out the full interview with Prashun in this Editorial.
Computational discovery of promising new n-type dopable ABX Zintl thermoelectric materials
Prashun Gorai, Alex Ganose, Alireza Faghaninia, Anubhav Jain and Vladan Stevanović
Mater. Horiz., 2020,7, 1809-1818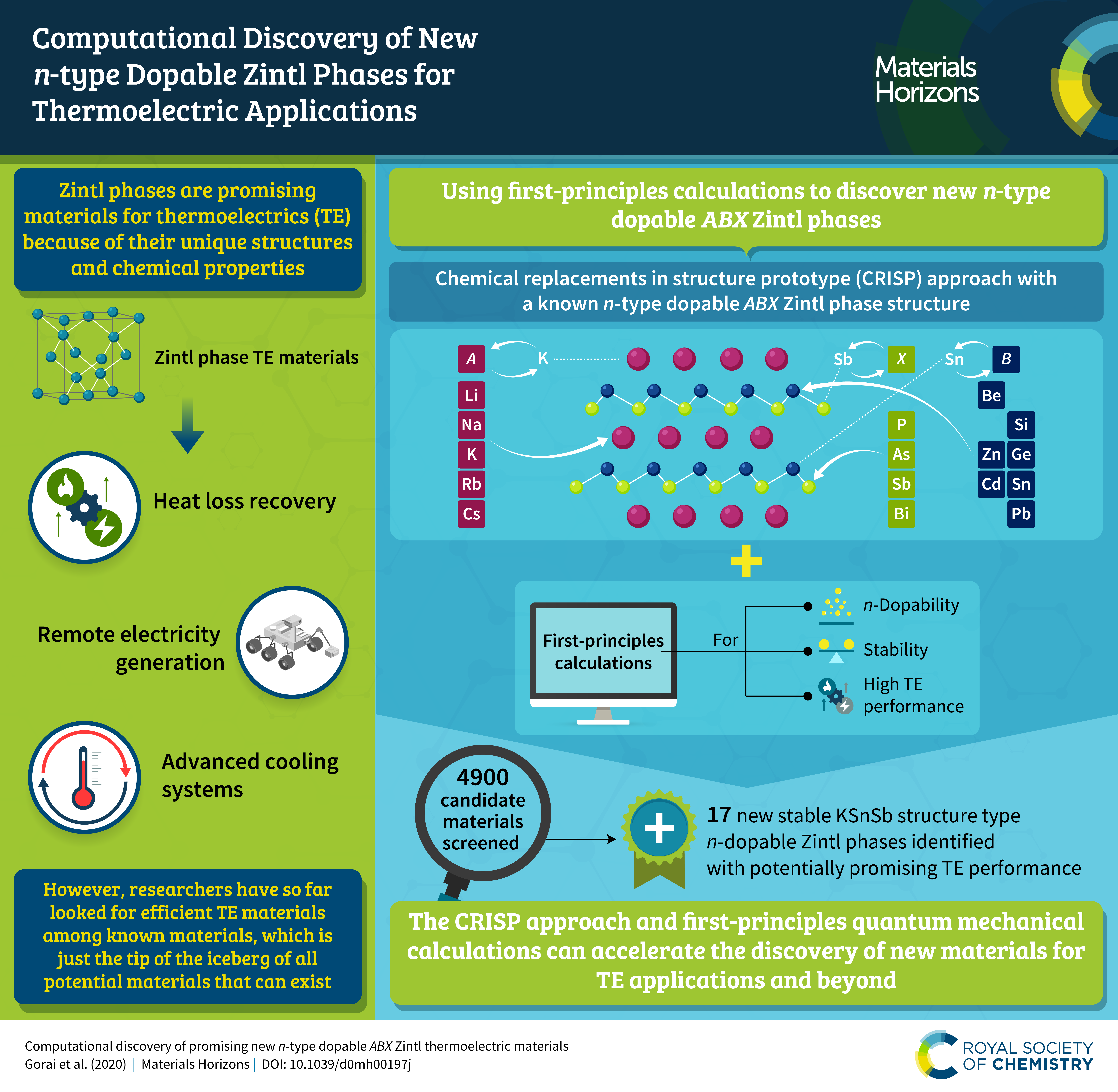 Meet the authors
Prashun Gorai, Colorado School of Mines, USA

Dr. Prashun Gorai is a research assistant professor in the Department of Metallurgical and Materials Engineering at the Colorado School of Mines (CSM) with a joint faculty appointment at the National Renewable Energy Laboratory (NREL). He obtained his B.Tech in Chemical Engineering from the Indian Institute of Technology Madras in 2008, and his PhD (also in Chemical Engineering) from the University of Illinois at Urbana-Champaign (UIUC) in 2014. Subsequently, he worked as a postdoctoral fellow at CSM and NREL, from 2014-2017. He received a graduate student fellow award from the American Vacuum Society in 2009. In 2012 and 2013, he was a recipient of the Dow Chemical graduate fellowship. The Royal Society of Chemistry has recognized him as an outstanding peer reviewer for the J. Materials Chemistry A in 2018 and 2019. At CSM and NREL, his team utilizes first-principles computations and data informatics to accelerate the discovery of novel functional materials for thermoelectrics, photovoltaics, solid-state energy storage, and power electronics. In the quest to discover novel functional materials, his team aims to map unexplored/under-explored chemical spaces with targeted computational searches. Beyond discovery, his team is also interested in predicting and modelling defect properties of materials. Details about his team can be found on the 3D Materials Lab webpage.

Don't forget to check out the Emerging Investigator series interview with Prashun in this Editorial.