Materials Horizons is delighted to announce its latest Impact Factor is 13.183*.
We are delighted to see the continued support from the community to help us maintain our extremely high standards and focus so that we only publish reports of new concepts of exceptional significance to the materials science readership – thank you!
To celebrate we have selected a few recent articles and made these free to access until the end of August – we hope you enjoy reading them.
Human ability to discriminate surface chemistry by touch by Cody W. Carpenter, Charles Dhong, Nicholas B. Root, Daniel Rodriquez, Emily E. Abdo, Kyle Skelil, Mohammad A. Alkhadra, Julian Ramírez, Vilayanur S. Ramachandran and Darren J. Lipomi
Searching for promising new perovskite-based photovoltaic absorbers: the importance of electronic dimensionality by Zewen Xiao, Weiwei Meng, Jianbo Wang, David B. Mitzi and Yanfa Yan
Optimal sound-absorbing structures by Min Yang, Shuyu Chen, Caixing Fu and Ping Sheng
PLUS-M: a Porous Liquid-metal enabled Ubiquitous Soft Material by Hongzhang Wang, Bo Yuan, Shuting Liang, Rui Guo, Wei Rao, Xuelin Wang, Hao Chang, Yujie Ding, Jing Liu and Lei Wang
Highly flexible, freestanding tandem sulfur cathodes for foldable Li–S batteries with a high areal capacity by Chi-Hao Chang, Sheng-Heng Chung and Arumugam Manthiram
Read more of our latest articles here.
---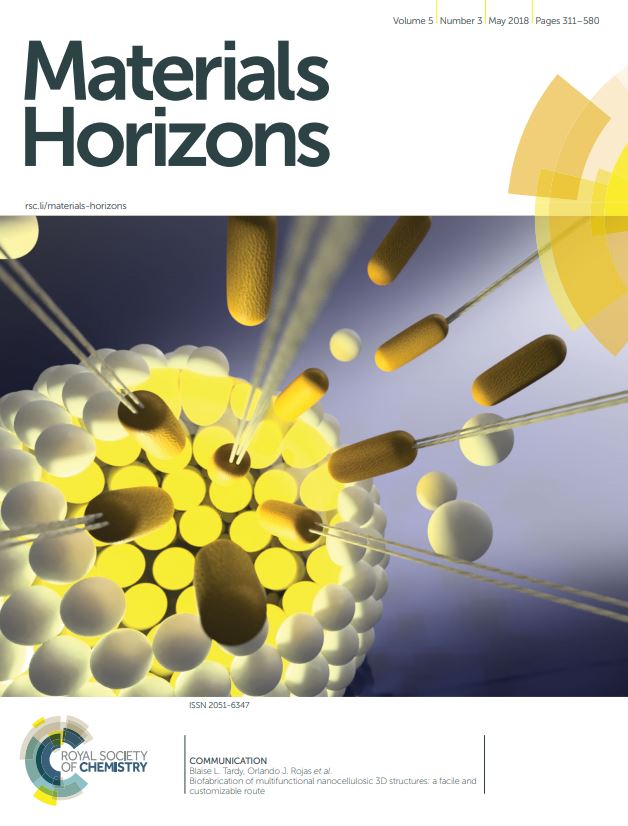 At Materials Horizons, our reviewing standards are set extremely high to ensure we only publish first reports of new concepts across the breadth of materials research. Our Impact Factor of 13.183* is testament to the exceptionally significant work of our community.
Contact us: materialshorizons-rsc@rsc.org
Follow us: Homepage | Twitter | Facebook | Blog | RSS
---
Click here to read recent articles describing new concepts in nanoscience & nanotechnology in our sister-journal Nanoscale Horizons, impact factor 9.391*.
*2017 Journal Citation Reports (June 2018) © Clarivate Analytics.