We are delighted to share with you some of the most popular articles that were published in Materials Horizons in 2017.
Last year our Materials Horizons community published a larger number of articles of exceptional significance than ever before. We hope you enjoy reading this selection of some of the most highly cited* and most frequently downloaded articles from 2017.
---
Focus
Thermoresponsive polymers with lower critical solution temperature: from fundamental aspects and measuring techniques to recommended turbidimetry conditions
Qilu Zhang, Christine Weber, Ulrich S. Schubert and Richard Hoogenboom
Review
Metal organic framework based catalysts for CO2 conversion
James W. Maina, Cristina Pozo-Gonzalo, Lingxue Kong, Jürg Schütz, Matthew Hill and Ludovic F. Dumée
Heteroatom-doped graphene as electrocatalysts for air cathodes
Huijuan Cui, Zhen Zhou and Dianzeng Jia
Atomic layer deposition for nanomaterial synthesis and functionalization in energy technology
Xiangbo Meng, Xinwei Wang, Dongsheng Geng, Cagla Ozgit-Akgun, Nathanaelle Schneider and Jeffrey W. Elam
Metal-organic frameworks: a novel host platform for enzymatic catalysis and detection
Effrosyni Gkaniatsou, Clémence Sicard, Rémy Ricoux, Jean-Pierre Mahy, Nathalie Steunou and Christian Serre
Communication
Searching for promising new perovskite-based photovoltaic absorbers: the importance of electronic dimensionality
Zewen Xiao, Weiwei Meng, Jianbo Wang, David B. Mitzi and Yanfa Yan
Quaternisation-polymerized N-type polyelectrolytes: synthesis, characterisation and application in high-performance polymer solar cells
Zhicheng Hu, Rongguo Xu, Sheng Dong, Kai Lin, Jinju Liu, Fei Huang and Yong Cao
Functional conductive nanomaterials via polymerisation in nano-channels: PEDOT in a MOF
Tiesheng Wang, Meisam Farajollahi, Sebastian Henke, Tongtong Zhu, Sneha R. Bajpe, Shijing Sun, Jonathan S. Barnard, June Sang Lee, John D. W. Madden, Anthony K. Cheetham and Stoyan K. Smoukov
Efficient triplet–triplet annihilation upconversion in binary crystalline solids fabricated via solution casting and operated in air
Kenji Kamada, Yusuke Sakagami, Toshiko Mizokuro, Yutaka Fujiwara, Kenji Kobayashi, Kaishi Narushima, Shuzo Hirata and Martin Vacha
Programming 2D/3D shape-shifting with hobbyist 3D printers
Teunis van Manen, Shahram Janbaz and Amir A. Zadpoor
---
Check out our most recent articles from 2018…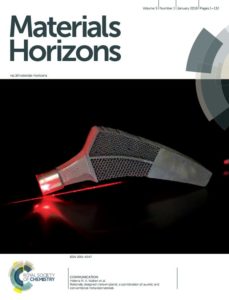 At Materials Horizons, our reviewing standards are set extremely high to ensure we only publish first reports of new concepts across the breadth of materials research. Our impact factor of 10.706** is testament to the exceptionally significant work of our community.
Contact us: materialshorizons-rsc@rsc.org
Follow us: Homepage | Twitter | Facebook | Blog | E-alerts | RSS
*Web of Science (February 2018) © Clarivate Analytics.
**2016 Journal Citation Reports (June 2017) © Clarivate Analytics.