We had a great time in Japan in November for the Materials Horizons Symposium on Electronic & Photonic Materials!
Accompanied by Dr Simon Neil (Materials Horizons, Managing Editor) and Hiromitsu Urakami (RSC Manager, Japan), a great line-up of speakers visited Kyoto University and the National Institute for Materials Science to showcase a wide variety of cutting-edge work in and around the areas of electronic and photonic materials. We were delighted to hear some fantastic talks from Professor Yasuhiko Arakawa, Professor Lay-Lay Chua, Professor Maria Antonietta Loi, Materials Horizons Founding Chair Professor Seth Marder, and many more!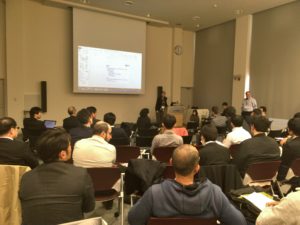 This event was also supported by Division of Molecular Electronics and Bioelectronics – The Japan Society of Applied Physics, The Japanese Photochemistry Association, Research Group on Electrical and Electronic Properties of Polymer and Organics – The Japan Society for Polymer Science.