Researchers have long been interested in peering into the brain. Added to the inherent challenge of imaging through biological medium, the skull presents a major barrier that highly attenuates light.
To overcome this barrier, in a recent communication in Materials Horizons, Guo et al. have synthesized an organic nanoparticle for photoacoustic imaging with absorbance in the second near-infrared window. At this wavelength, there is relatively low scattering from tissue allowing for deeper penetration of light.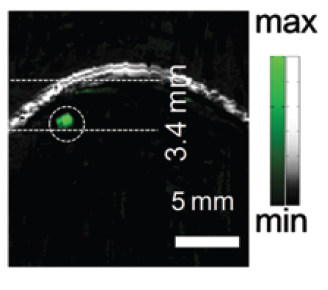 Photoacoustic images of a brain tumor after nanoparticle injection. The grey ultrasound image shows the skin and the skull margin, and the green signal indicates the nanoparticle distribution. Image adapted from Guo et al., Mater. Horiz., 2017, Advance Article with permission from The Royal Society of Chemistry. 
Nanoparticles were made from benzodithiophene-benzobithiadiazole donor-acceptor pairs co-polymerized and nanoprecipitated using biocompatible materials. When these imaging nanoparticles were applied to mice with orthotopic brain tumors, tumors 3.4 nm below the skull were resolved with a nearly 100-fold increase in photoacoustic signal compared to before intravenous administration of nanoparticles. The stable, high contrast photoacoustic imaging nanoparticle presented in this work offers a versatile platform for simple chemical modifications such as ligand targeting or drug loading.
Future work remains on the horizon to advance these materials for imaging through the ~5 mm thickness of human skulls.
Read the full article here:
Bing Guo, Zonghai Sheng, Kenry, Dehong Hu, Xiangwei Lin, Shidang Xu, Chengbo Liu, Hairong Zheng and Bin Liu
Ester Kwon is a member of the Community Board for Materials Horizons. Currently, she works as an Assistant Professor in the Department of Bioengineering at University of California San Diego, USA. Check out her personal website here.