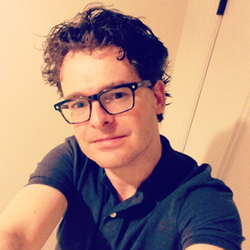 Stefan A. F. Bon is an associate professor in the Department of Chemistry at the University of Warwick, UK. He studied Chemical Engineering at the Technical University of Eindhoven (TUE), the Netherlands (cum laude, 1989-1993). He has a background in the mechanistic and kinetic development of (living) radical polymerizations (1993-2005). Since 2005 he has established himself as an international player in the area of polymer colloids, and continues to innovate in the area of supracolloidal chemistry. Since 2009 he has given more than 70 invited talks. He is an IUPAC fellow, and the current chair of the UK Polymer Colloids Forum (UKPCF) and of the International Polymer Colloids Group (IPCG). 
Why did you choose Materials Horizons to publish your exciting work?
We chose Materials Horizons for this article as we really liked the vision behind this new Royal Society of Chemistry journal in that it focusses on new conceptual insights in material science, spanning across the breaths of all the more traditional disciplines, such as chemistry and physics. Our paper draws from knowledge on sol-gel synthesis, Pickering stabilisation, emulsion templating, uses heterogeneous catalysis, and blends it with physical concepts and understanding on motion on the microscopic scale. Chemotaxis is common in nature and to demonstrate that our matchstick shaped particles could undergo this directional form of self-propulsion was very exciting. This mash-up of scientific disciplines for our work made Materials Horizons THE journal to publish our work in.
How did you find the Materials Horizons publication process?
As can be said for all scientific journals published by the Royal Society of Chemistry, the submission and review process is very professional and fast. I was impressed with the turn around time and the excellent comments of the reviewers made. I also very much value the promotion the Materials Horizons team has done after our paper went live. Thanks very much!
What topics would you like to see covered in future issues of Materials Horizons? Are there any particularly related to Focus articles, which are educational articles, designed to provide the reader with a sense of a concept from an area of materials science?
This is a tough question as material science is broad, but in short: "stuff that amazes the reader" I really hope that the journal becomes a platform for scientific discoveries with a conceptual wow-factor. Adding spatial control to self-assembly of molecules or particles, building a synthetic cell which could operate as a chemical production plant, a flexible solar cell with a life-span of years maintaining high conversion efficiencies, etc…
It would be great if Focus articles could report on a topic in a way that it provides an almost synergistic portrait drawn from knowledge of material scientists of different scientific backgrounds.
Tell us more about your research
The BonLab undertakes research through a combination of polymer chemistry, soft matter/fluid physics, and chemical engineering. We study the chemistry and physics of colloidal systems in which molecular and/or colloidal entities can be assembled into more complex supracolloidal structures. We are interested in the synthesis of particles and macromolecules with a design tailored to trigger and control motility and assembly, the development of methods to (self)-organise colloidal matter, the understanding of the interactions involved between molecular and colloidal building blocks and potential macroscopic substrates. We find it important that our technology can be scaled-up and is of use in a variety of industrial applications ranging from sensors and devices, coatings and adhesives, to food, personal care, agricultural and biological systems. The BonLab is predominantly funded by industry to tackle a variety of problems for applications ranging from food, coatings, concrete and adhesives, to personal care formulations, agricultural formulations, and binders and dispersants.
Stephan Bonn's Communication article Chemotaxis of catalytic silica–manganese oxide "matchstick" particles is free to access online!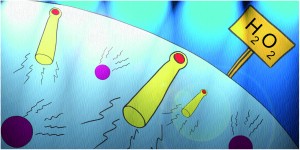 Chemotaxis of catalytic silica–manganese oxide "matchstick" particles
Adam R. Morgan, Alan B. Dawson, Holly S. Mckenzie, Thomas S. Skelhon, Richard Beanland, Henry P. W. Franks and Stefan A. F. Bon  
Mater. Horiz., 2014, Advance Article DOI: 10.1039/C3MH00003F
Silica-based "matchstick" colloids with a catalytic head undergo chemotaxis in water using hydrogen peroxide as the fuel.