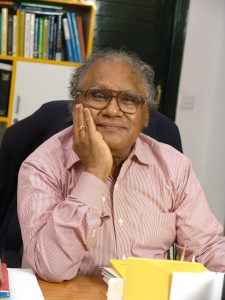 Professor C. N. R. Rao, one of India's highly regarded scientists, has been conferred the honour of the Bharat Ratna for 2014.  This is India's highest civilian award and is seldom awarded.  Professor Rao is the third scientist and first chemist ever to receive the honour.
At an age when other people have relaxed into retirement, Professor Rao still spends several hours a day in his laboratory and has been in the running for a Nobel Prize for many years, showing his dedication and passion for his work.  He also co-authors books with his wife with the aim of making chemistry more accessible for children.  When asked in an interview with New Delhi Television what is required to succeed as a scientist in India, Professor Rao responded "stamina, tenacity, doggedness and perseverance.  Also a little intelligence is useful!"
The Materials Horizons Editorial Office would like to extend our personal congratulations to Professor Rao on his outstanding achievement and take the opportunity to thank him for the work he does as an Editorial Board member for the journal.
For more information on Professor Rao, please read his author profile here.