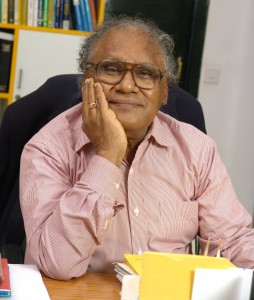 C.N.R. Rao is the National Research Professor, Honorary President and Linus Pauling Research Professor at the Jawaharlal Nehru Centre for Advanced Scientific Research. He is also an Honorary Professor at the Indian Institute of Science. Professor Rao studied for his M.Sc. degree at Banaras University before receiving his Ph.D. from Purdue University and D.Sc. from the University of Mysore. He is the author of over 1400 research papers and 45 books.
Professor Rao has received numerous honours for his research in materials and solid state chemistry. Among the most recent are the Nikkei Asia Prize for Science, Technology and Innovation (2008), the Royal Society Royal Medal (2009) and the German Chemical Society August-Wilhelm-von-Hoffmann Medal (2010). He received the Ernesto Illy Trieste Science Prize for materials research in 2011 and was Albert Einstein Professor of the Chinese Academy of Sciences in 2012.
Professor Rao is the Chairman of the Scientific Advisory Council to the Prime Minister, immediate past President of The Academy of Sciences for the Developing World (TWAS) and Member of the Atomic Energy Commission of India. He is Founder-President of both the Chemical Research Society of India and the Materials Research Society of India.
Follow the latest journal news on Twitter @MaterHoriz or go to our Facebook page.