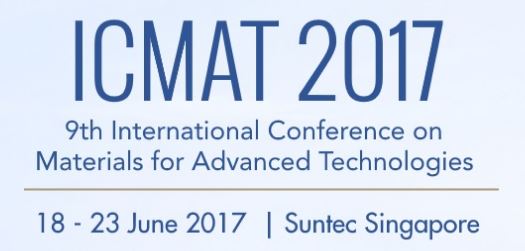 The Molecular Systems Design & Engineering team is proud to announce our sponsorship of the upcoming Materials Research Society of Singapore event ICMAT 2017: 9th International Conference on Materials for Advanced Technologies, which will be taking place on 18–23 June 2017 at Suntec Singapore.
At ICMAT 2017 there will be 29 Symposia covering contemporary topics of importance for the science, engineering and technology of materials. The meeting will be a multidisciplinary forum providing over 2,000 research scientists and engineers a first-hand learning platform, as well as the opportunity to share and exchange ideas with some of the best minds in the field.
Abstract submission closes on 27 January
In addition to public lectures from Nobel laureates Hiroshi Amano (Physics, 2014) and Andre Geim (Physics, 2010), there will be plenary lectures from:
Hiroshi Amano (Nagoya University, Japan)
Andre Geim (University of Manchester, UK)
C. N. R. Rao (Jawaharlal Nehru Centre for Advanced Scientific Research, Bangalore, India)
George Whitesides (Harvard University, USA)
Zhenan Bao (Stanford University, USA)
Yury Gogotsi (Drexel University, USA)
Ben Zhong Tang (Hong Kong University of Science & Technology, China)
Qi-Kun Xue (Tsinghua University, China)
Registration opens 10 February!