The articles below are some of the most read MedChemComm articles in April, May and June 2016.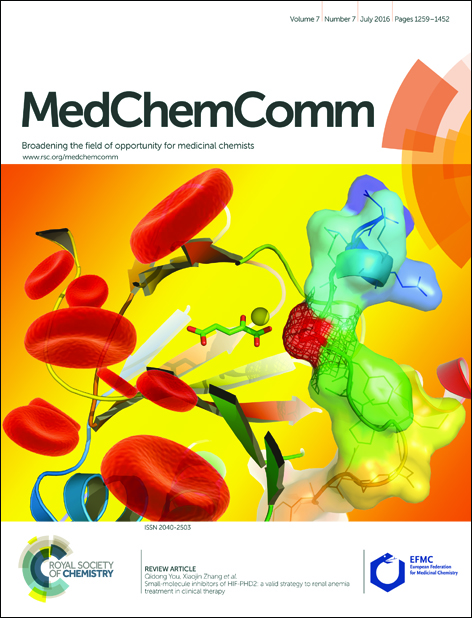 The discovery of a novel antibiotic for the treatment of Clostridium difficile infections: a story of an effective academic–industrial partnership
John Mann, Peter W. Taylor, Colin R. Dorgan, Peter D. Johnson, Francis X. Wilson, Richard Vickers, Aaron G Dale and Stephen Neidle
DOI: 10.1039/C5MD00238A, Review Article
Multivalent glycoconjugates as vaccines and potential drug candidates
Sumati Bhatia, Mathias Dimde and Rainer Haag
DOI: 10.1039/C4MD00143E, Review Article
Bacterial lipid membranes as promising targets to fight antimicrobial resistance, molecular foundations and illustration through the renewal of aminoglycoside antibiotics and emergence of amphiphilic aminoglycosides
Marie-Paule Mingeot-Leclercq and Jean-Luc Décout
DOI: 10.1039/C5MD00503E, Review Article
Surface plasmon resonance for the characterization of bacterial polysaccharide antigens: a review
Barbara Brogioni and Francesco Berti
DOI: 10.1039/C4MD00088A, Review Article
Mechanisms of resistance to membrane-disrupting antibiotics in Gram-positive and Gram-negative bacteria
Kfir B. Steinbuch and Micha Fridman
DOI: 10.1039/C5MD00389J, Review Article
Towards understanding cell penetration by stapled peptides
Qian Chu, Raymond E. Moellering, Gerard J. Hilinski, Young-Woo Kim, Tom N. Grossmann, Johannes T.-H. Yeh and Gregory L. Verdine
DOI: 10.1039/C4MD00131A, Concise Article
Polypharmacology modelling using proteochemometrics (PCM): recent methodological developments, applications to target families, and future prospects
Isidro Cortés-Ciriano, Qurrat Ul Ain, Vigneshwari Subramanian, Eelke B. Lenselink, Oscar Méndez-Lucio, Adriaan P. IJzerman, Gerd Wohlfahrt, Peteris Prusis, Thérèse E. Malliavin, Gerard J. P. van Westen and Andreas Bender
DOI: 10.1039/C4MD00216D, Review Article
Covalent tethering of fragments for covalent probe discovery
Stefan G. Kathman and Alexander V. Statsyuk
DOI: 10.1039/C5MD00518C, Review Article
Endless resistance. Endless antibiotics?
Jed F. Fisher and Shahriar Mobashery
DOI: 10.1039/C5MD00394F, Review Article
Identification of an inhibitor of the ubiquitin–proteasome system that induces accumulation of polyubiquitinated proteins in the absence of blocking of proteasome function
Caroline Haglund, Chitralekha Mohanty, Mårten Fryknäs, Padraig D'Arcy, Rolf Larsson, Stig Linder and Linda Rickardson
DOI: 10.1039/C3MD00386H, Concise Article
Structural biology and chemistry of protein arginine methyltransferases
Matthieu Schapira and Renato Ferreira de Freitas
DOI: 10.1039/C4MD00269E, Review Article
eCF309: a potent, selective and cell-permeable mTOR inhibitor
Craig Fraser, Neil O. Carragher and Asier Unciti-Broceta
DOI: 10.1039/C5MD00493D, Research Article
Mechanisms of resistance to aminoglycoside antibiotics: overview and perspectives
Sylvie Garneau-Tsodikova and Kristin J. Labby
DOI: 10.1039/C5MD00344J, Review Article
The evolution of drug discovery: from phenotypes to targets, and back
Hassan Al-Ali
DOI: 10.1039/C6MD00129G, Review Article
Design and synthesis of potent and selective inhibitors of BRD7 and BRD9 bromodomains
Duncan A. Hay, Catherine M. Rogers, Oleg Fedorov, Cynthia Tallant, Sarah Martin, Octovia P. Monteiro, Susanne Müller, Stefan Knapp, Christopher J. Schofield and Paul E. Brennan
DOI: 10.1039/C5MD00152H, Concise Article
Label-free technologies for target identification and validation
Jing Li, Hua Xu, Graham M. West and Lyn H. Jones
DOI: 10.1039/C6MD00045B, Review Article
Ambient mass spectrometry technologies for the detection of falsified drugs
María J. Culzoni, Prabha Dwivedi, Michael D. Green, Paul N. Newton and Facundo M. Fernández
DOI: 10.1039/C3MD00235G, Review Article
2-[18F]Fluoroethyl tosylate – a versatile tool for building 18F-based radiotracers for positron emission tomography
Torsten Kniess, Markus Laube, Peter Brust and Jörg Steinbach
DOI: 10.1039/C5MD00303B, Review Article
Rational design of protein–protein interaction inhibitors
Didier Rognan
DOI: 10.1039/C4MD00328D, Review Article
Synthesis of α-brominated phosphonates and their application as phosphate bioisosteres
A. Michael Downey and Christopher W. Cairo
DOI: 10.1039/C4MD00255E, Review Article
Thermoresponsive fluorinated small-molecule drugs: a new concept for efficient localized chemotherapy
Catherine M. Clavel, Patrycja Nowak-Sliwinska, Emilia Păunescu and Paul J. Dyson
DOI: 10.1039/C5MD00409H, Review Article
Targeting the trehalose utilization pathways of Mycobacterium tuberculosis
Sandeep Thanna and Steven J. Sucheck
DOI: 10.1039/C5MD00376H, Review Article
Keep up-to-date with the latest issues of MedChemComm by joining our e-alerts.