MedChemComm is delighted to present a concise web focus on drug-target residence time.
Koen Augustyns, Professor of Medicinal Chemistry at the University of Antwerp, Belgium, introduces the topic and has hand-picked 3 articles for this spotlight:
'Analysis of drug-target residence time has begun to play a larger role in drug discovery as suggested by recent literature. For compounds with a slow off rate, long action at the target may render a perfect pharmacokinetic profile unnecessary, and selectivity vs. other targets inhibited only briefly may be more readily achieved. Specific, irreversible inhibition may be considered as the logical extreme for this approach. For other targets or therapeutic areas, other kinetic profiles may be desirable. The topic is timely as indicated by a recently launched Innovative Medicines Initiative project and the organization of several symposia exclusively focusing on this subject. However, there is a real need to build a better understanding in the medicinal chemistry and drug discovery community of the preferred profiles and screening methods for compounds with optimized drug-target residence times.'
In this MedChemComm web focus Georges Vauquelin comments on the determination of drug-target residence time by radioligand binding and functional assays and discusses their physiological relevance. Duncan C. Miller et al. investigate how molecular properties may affect the dissociation kinetics of ligand from its biological target. Finally, Juswinder Singh et al. describe the superiority of a novel EGFR targeted covalent inhibitor over its reversible analogues in overcoming drug resistance.
Interested? Why not read these three articles now: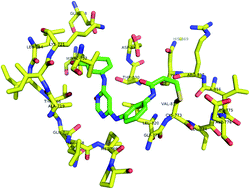 Determination of drug–receptor residence times by radioligand binding and functional assays: experimental strategies and physiological relevance
Georges Vauquelin
Med. Chem. Commun., 2012,3, 645-651
DOI: 10.1039/C2MD20015E, Review Article
Investigation of the effect of molecular properties on the binding kinetics of a ligand to its biological target
Duncan C. Miller, Graham Lunn, Peter Jones, Yogesh Sabnis, Nichola L. Davies and Paul Driscoll
Med. Chem. Commun., 2012,3, 449-452
DOI: 10.1039/C2MD00270A, Concise Article
Superiority of a novel EGFR targeted covalent inhibitor over its reversible counterpart in overcoming drug resistance
Juswinder Singh, Erica Evans, Margit Hagel, Matthew Labinski, Alex Dubrovskiy, Mariana Nacht, Russell C. Petter, Aravind Prasad, Michael Sheets, Thia St Martin, Robert Tjin Tham Sjin, William Westlin and Zhendong Zhu
Med. Chem. Commun., 2012,3, 780-783
DOI: 10.1039/C2MD20017A, Concise Article
We hope that you find this selection interesting and stimulating to read – and why not submit your latest research in the area today!