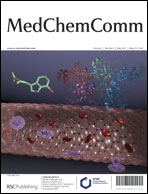 The cover of MedChemComm issue 5 is by Rudolf K. Allemann et al., whose concise article presents the synthesis of a series of monohalide mercaptoacrylic acid derivatives, and looks at the structure activity relationship in order to investigate the ability of these molecules to inhibit the Ca2+ activation of calpain-1, which is linked with tissue inflammation.
Potent inhibition of Ca2+-dependent activation of calpain-1 by novel mercaptoacrylates
Sarah E. Adams, Christian Parr, David J. Miller, Rudolf K. Allemann and Maurice B. Hallett
Med. Chem. Commun., 2012,
DOI: 10.1039/C2MD00280A
As with all our covers, this work will be free to access for the next 6 weeks.
You may also be interested in the 3 reviews in the issue on how enantiomeric pairs reveal that key medicinal chemistry parameters vary more than simple physical property based models can explain, small-molecule inhibitors of dimeric transcription factors and Gd(III) chelates for MRI contrast agents.
Find the entire issue right here