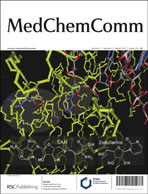 On  the cover of this month's issue is an image from Nadine Martinet et al. accompanying their review on small molecule inhibitors of DNA methyltransferases.  This article forms part of our recent Epigenetics collection, which also includes articles from Manfred Jung, Wolfgang Sippl, Antonello Mai and Stephen Frye.
Small molecules DNA methyltransferases inhibitors
Nadine Martinet, Benoît Y. Michel, Philippe Bertrand and Rachid Benhida
DOI: 10.1039/C1MD00194A
The issue also contains reviews from Peter Kovacic and Andrew Cooksy discussing the mechanism of the antifungal drug amphotericin B and Gary H. Posner et al. on recent advances in the design of cyclic peroxides for the treatment of malaria.
Novel, unifying mechanism for amphotericin B and other polyene drugs: electron affinity, radicals, electron transfer, autoxidation, toxicity, and antifungal action
Peter Kovacic and Andrew Cooksy
DOI: 10.1039/C2MD00267A
Antimalarial peroxides: advances in drug discovery and design
Rachel D. Slack, Alexander M. Jacobine and Gary H. Posner
DOI: 10.1039/C2MD00277A
View these and many other interesting articles online here