Congratulations to Dr Christoph Nitsche, recipient of the 2023 RSC Medicinal Chemistry Emerging Investigator Lectureship.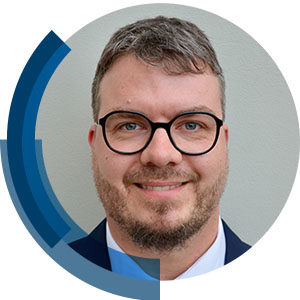 The annual RSC Medicinal Chemistry Emerging Investigator Lectureship recognises a researcher who has made a significant contribution to medicinal chemistry and drug discovery in their independent academic career, and is open to candidates who received their PhD within the last 10 years. The RSC Medicinal Chemistry Editorial Board have selected Dr Nitsche, from the Australian National University, as the winner this year.
"I am honoured to receive the RSC Medicinal Chemistry Emerging Investigator Lectureship, which I owe first and foremost to my students and postdocs for their tireless efforts over the last couple of years. I was fortunate enough to have had great mentors who inspired me to think outside the box and build interdisciplinary bridges. I am most grateful for the generous support I have received from foundations and funding agencies throughout my early career, as they have provided me the freedom to pursue my ideas." – Dr Christoph Nitsche
Dr Nitsche's lectureship will be held virtually at date to be confirmed. To stay up to date with future announcements, follow us on Twitter @rsc_medchem and sign-up to our news alerts.
More about Christoph
Dr Nitsche is Associate Professor and ARC Future Fellow at the Australian National University (ANU) in Canberra. He completed his PhD in medicinal chemistry at Heidelberg University, Germany, in 2014 and was awarded a Feodor Lynen Fellowship to undertake postdoctoral work in structural biology at the ANU from 2015 to 2018. After a short period at the Free University of Berlin, he received an ARC Discovery Early Career Research Award in 2019 to return to the ANU as a group leader with the goal to accelerate drug discovery. His most recent honours include the John Wade Early Career Researcher Award, the Peter Schwerdtfeger Award, and the Australian Research Award as top researcher in the field of Medicinal Chemistry. Dr Nitsche's interdisciplinary research program focuses on infectious diseases, bioorthogonal chemistry, and peptide and protein modification.
Find out more about Christoph and the work his lab is doing on their webpage.