We are delighted to share with you a collection of research papers, review articles and books on the topic of antimicrobial resistance (AMR). Warnings about the threat of antibiotic resistance, and more broadly AMR, to human health, global food production and economic prosperity are receiving increased media interest. By 2050, it is estimated that without coordinated action, 10 million people could die from previously curable illnesses.

"At the end of this month, the World Health Organisation (WHO) will present their draft global action plan on AMR at the 68th World Health Assembly in Geneva, it is timely to consider the importance of chemistry in tackling antimicrobial resistance," comments Professor Sylvie Garneau-Tsodikova, Editorial Board member of MedChemComm "This collection showcases the essential contributions of chemical science to understanding antibiotic resistance, developing new treatments, diagnostics and mitigations strategies to tackle this global threat."

"The chemical sciences play a pivotal role in a sustainable and prosperous future" says Dominic Tildesley, President of the Royal Society of Chemistry "whether it's developing new antibiotics to combat infection, converting waste to energy, or developing efficient solar energy cells, chemists are designing and applying tomorrow's technologies".

All articles are freely available until 18th June. All books included here have their first chapter free to read.

Learn more about our work to support the chemical sciences community working on solutions in climate change, energy, food, health and water.

Having trouble acessing the articles? Remeber to login in to you free personal account to see all our free content.
Don't have a free account? It's quick and easy to create one now.

---
Why is it important to address AMR?

| | |
| --- | --- |
| | |
| Thomas Fleming outlines the role of chemistry in tackling antibiotic resistance as part of our recent chemistry in health video competition | Beating the Superbugs – avoiding an antibiotic apocalypse – a public panel discussion chaired by Michael Moseley, science journalist and TV presenter,  with scientists and policy makers to discuss the challenges and possible solutions to addressing AMR. |
---
Design & synthesis of new antimicrobials


Reviews and Perspectives:
Plants as sources of new antimicrobials and resistance-modifying agents
Ana Cristina Abreu, Andrew J. McBain and Manuel Simões
Nat. Prod. Rep., DOI: 10.1039/C2NP20035J, Review Article
Antibiotics from myxobacteria
Till F. Schäberle, Friederike Lohr, Alexander Schmitz and Gabriele M. König
Nat. Prod. Rep., DOI: 10.1039/C4NP00011K, Review Article
Glycopeptide dendrimers as Pseudomonas aeruginosa biofilm inhibitors
Jean-Louis Reymond, Myriam Bergmann and Tamis Darbre
Chem. Soc. Rev., DOI: 10.1039/C3CS35504G, Review Article
Dithiolopyrrolones: biosynthesis, synthesis, and activity of a unique class of disulfide-containing antibiotics
Bo Li, Walter J. Wever, Christopher T. Walsh and Albert A. Bowers
Nat. Prod. Rep., DOI: 10.1039/C3NP70106A, Review Article
Ruthenium complexes as antimicrobial agents
Fangfei Li, J. Grant Collins and F. Richard Keene
Chem. Soc. Rev., DOI: 10.1039/C4CS00343H, Review Article
AApeptides as a new class of antimicrobial agents
Youhong Niu, Haifan Wu, Yaqiong Li, Yaogang Hu, Shruti Padhee, Qi Li, Chuanhai Cao and Jianfeng Cai
Org. Biomol. Chem., DOI: 10.1039/C3OB40444G, Perspective
Benzyl-substituted metallocarbene antibiotics and anticancer drugs
F. Hackenberg and M. Tacke
Dalton Trans., DOI: 10.1039/C4DT00624K, Perspective
Siderophore-dependent iron uptake systems as gates for antibiotic Trojan horse strategies against Pseudomonas aeruginosa
Gaëtan L. A. Mislin and Isabelle J. Schalk
Metallomics, DOI: 10.1039/C3MT00359K, Minireview
Design and synthesis of membrane-targeting antibiotics: from peptides- to aminosugar-based antimicrobial cationic amphiphiles
Ido M. Herzog and Micha Fridman
Med. Chem. Commun., DOI: 10.1039/C4MD00012A, Review Article
---
Original research articles:
Synthesis of antimicrobial cyclodextrins bearing polyarylamino and polyalkylamino groups via click chemistry for bacterial membrane disruption
Hatsuo Yamamura, Yuuki Sugiyama, Kensuke Murata, Takanori Yokoi, Ryuji Kurata, Atsushi Miyagawa, Kenji Sakamoto, Keiko Komagoe, Tsuyoshi Inoue and Takashi Katsu
Chem. Commun., DOI: 10.1039/C3CC49543D, Communication
Phenazine antibiotic inspired discovery of potent bromophenazine antibacterial agents against Staphylococcus aureus and Staphylococcus epidermidis
Nicholas V. Borrero, Fang Bai, Cristian Perez, Benjamin Q. Duong, James R. Rocca, Shouguang Jin and Robert W. Huigens III
Org. Biomol. Chem., DOI: 10.1039/C3OB42416B, Communication
Polymers with tunable side-chain amphiphilicity as non-hemolytic antibacterial agents
Divakara S. S. M. Uppu, Padma Akkapeddi, Goutham B. Manjunath, Venkateswarlu Yarlagadda, Jiaul Hoque and Jayanta Haldar
Chem. Commun., DOI: 10.1039/C3CC43751E, Communication
Mechanism of Action of the Uridyl Peptide Antibiotics: An Unexpected Link to a Protein-Protein Interaction Site in Translocase MraY

Timothy Bugg, Maria Rodolis, Agnes Mihalyi, Christian Ducho, Kornelia Eitel, Bertolt Gust and Rebecca Jane Miriam Goss
Chem. Commun., DOI: 10.1039/C4CC06516F, Communication
Tailored lysozyme–ZnO nanoparticle conjugates as nanoantibiotics
Nirmalya Tripathy, Rafiq Ahmad, Seung Hyuck Bang, Jiho Min and Yoon-Bong Hahn
Chem. Commun., DOI: 10.1039/C4CC03712J, Communication
Inhibitors of bacterial tubulin target bacterial membranes in vivo
Marie H. Foss, Ye-Jin Eun, Charles I. Grove, Daniel A. Pauw, Nohemy A. Sorto, Jarred W. Rensvold, David J. Pagliarini, Jared T. Shaw and Douglas B. Weibel
Med. Chem. Commun., DOI: 10.1039/C2MD20127E, Concise Article
A structure activity-relationship study of the bacterial signal molecule HHQ reveals swarming motility inhibition in Bacillus atrophaeus
F. Jerry Reen, Rachel Shanahan, Rafael Cano, Fergal O'Gara and Gerard P. McGlacken
Org. Biomol. Chem., DOI: 10.1039/C5OB00315F, Paper
An organometallic structure-activity relationship study reveals the essential role of a Re(CO)3 moiety in the activity against gram-positive pathogens including MRSA
Malay Patra, Michaela Wenzel, Pascal Prochnow, Vanessa Pierroz, Gilles Gasser, Julia E. Bandow and Nils Metzler-Nolte
Chem. Sci., DOI: 10.1039/C4SC02709D, Edge Article
Non-classical β-carbonic anhydrase inhibitors-towards novel anti-mycobacterials
Natascha von Gnielinski, Lisa Nienaber, Lyndel Mason, Samantha Ellis, James A. Triccas, Rohan A. Davis and Andreas Hofmann
Med. Chem. Commun., DOI: 10.1039/C4MD00310A, Concise Article
Indole-based novel small molecules for the modulation of bacterial signalling pathways
Nripendra Nath Biswas, Samuel K. Kutty, Nicolas Barraud, George M. Iskander, Renate Griffith, Scott A. Rice, Mark Willcox, David StC. Black and Naresh Kumar
Org. Biomol. Chem., DOI: 10.1039/C4OB02096K, Paper
Synthesis, antiribosomal and antibacterial activity of 4′-O-glycopyranosyl paromomycin aminoglycoside antibiotics
Weiwei Chen, Takahiko Matsushita, Dimitri Shcherbakov, Heithem Boukari, Andrea Vasella, Erik C. Böttger and David Crich
Med. Chem. Commun., DOI: 10.1039/C4MD00119B, Concise Article
Antibacterial activity of adamantyl substituted cyclohexane diamine derivatives against methicillin resistant Staphylococcus aureus and Mycobacterium tuberculosis
Beena, Deepak Kumar, Widuranga Kumbukgolla, Sampath Jayaweera, MaiAnn Bailey, Torey Alling, Juliane Ollinger, Tanya Parish and Diwan S. Rawat
RSC Adv., DOI: 10.1039/C4RA00224E, Paper
N-Substituted 2-aminoimidazole inhibitors of MRSA biofilm formation accessed through direct 1,3-bis(tert-butoxycarbonyl)guanidine cyclization
Andrew A. Yeagley, Zhaoming Su, Kára D. McCullough, Roberta J. Worthington and Christian Melander
Org. Biomol. Chem., DOI: 10.1039/C2OB26469B, Paper
Development of ruthenium(II) complexes as topical antibiotics against methicillin resistant Staphylococcus aureus
P.-L. Lam, G.-L. Lu, K.-M. Hon, K.-W. Lee, C.-L. Ho, X. Wang, J. C.-O. Tang, K.-H. Lam, R. S.-M. Wong, S. H.-L. Kok, Z.-X. Bian, H. Li, K. K.-H. Lee, R. Gambari, C.-H. Chui and W.-Y. Wong
Dalton Trans., DOI: 10.1039/C3DT52879K, Paper
Synthesis and biological activity of novel bis-indole inhibitors of bacterial transcription initiation complex formation
Marcin Mielczarek, Ruth V. Devakaram, Cong Ma, Xiao Yang, Hakan Kandemir, Bambang Purwono, David StC. Black, Renate Griffith, Peter J. Lewis and Naresh Kumar
Org. Biomol. Chem., DOI: 10.1039/C4OB00460D, Paper
Potent growth inhibitory activity of (±)-platencin towards multi-drug-resistant and extensively drug-resistant Mycobacterium tuberculosis
Gamal A. I. Moustafa, Shoji Nojima, Yoshi Yamano, Akio Aono, Masayoshi Arai, Satoshi Mitarai, Tetsuaki Tanaka and Takehiko Yoshimitsu
Med. Chem. Commun., DOI: 10.1039/C3MD00016H, Concise Article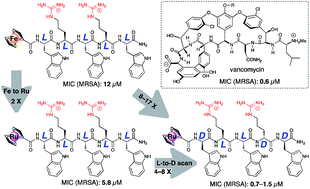 Thiazole-based aminopyrimidines and N-phenylpyrazolines as potent antimicrobial agents: synthesis and biological evaluation
Konstantinos Liaras, Athina Geronikaki, Jasmina Glamočlija, Ana Ćirić and Marina Soković
Med. Chem. Commun., DOI: 10.1039/C4MD00124A, Concise Article
Chlorido-containing ruthenium(II) and iridium(III) complexes as antimicrobial agents
Mallesh Pandrala, Fangfei Li, Marshall Feterl, Yanyan Mulyana, Jeffrey M. Warner, Lynne Wallace, F. Richard Keene and J. Grant Collins
Dalton Trans., DOI: 10.1039/C3DT32775B, Paper
Highly active antibacterial ferrocenoylated or ruthenocenoylated Arg-Trp peptides can be discovered by an L-to-D substitution scan
H. Bauke Albada, Pascal Prochnow, Sandra Bobersky, Julia E. Bandow and Nils Metzler-Nolte
Chem. Sci., DOI: 10.1039/C4SC01822B, Edge Article
---
Infection prevention and alternatives to address AMR

Books and Reviews:
Polymeric Materials with Antimicrobial Activity: From Synthesis to Applications
Alexandra Muñoz-Bonilla (Editor), María Cerrada (Editor), Marta Fernández-García (Editor)
ISBN (print): 978-1-84973-807-1, Copyright: 2013
Silver in Healthcare: Its Antimicrobial Efficacy and Safety in Use
Alan B. G. Lansdown (Author)
ISBN (print): 978-1-84973-006-8, Copyright: 2010
Photodynamic Inactivation of Microbial Pathogens: Medical and Environmental Applications
Michael R Hamblin (Editor), Giulio Jori (Editor)
ISBN (print): 978-1-84973-144-7, Copyright: 2011
Towards bacterial adhesion-based therapeutics and detection methods
Núria Parera Pera and Roland J. Pieters
Med. Chem. Commun., DOI: 10.1039/C3MD00346A, Review Article
Superhydrophobic surfaces for the reduction of bacterial adhesion
Xiaoxue Zhang, Ling Wang and Erkki Levänen
RSC Adv., DOI: 10.1039/C3RA40497H, Review Article
Nanosilver-based antibacterial drugs and devices: Mechanisms, methodological drawbacks, and guidelines
Loris Rizzello and Pier Paolo Pompa
Chem. Soc. Rev., DOI: 10.1039/C3CS60218D, Review Article
---
Original research articles:
Antimicrobial nanotechnology: its potential for the effective management of microbial drug resistance and implications for research needs in microbial nanotoxicology
Deborah M. Aruguete, Bojeong Kim, Michael F. Hochella, Yanjun Ma, Yingwen Cheng, Andy Hoegh, Jie Liu and Amy Pruden
Environ. Sci.: Processes Impacts, DOI: 10.1039/C2EM30692A, Critical Review
The promotion of antimicrobial activity on silicon substrates using a "click" immobilized short peptide
Lin Wang, Junjian Chen, Lin Shi, Zhifeng Shi, Li Ren and Yingjun Wang
Chem. Commun., DOI: 10.1039/C3CC47922F, Communication
An efficient strategy to achieve hydrophilic polymeric silver(I) materials with exceptional antibacterial activity
Sheng-Chun Chen, Zhi-Hui Zhang, Qun Chen, Li-Qun Wang, Juan Xu, Ming-Yang He, Miao Du, Xiao-Ping Yang and Richard A. Jones
Chem. Commun., DOI: 10.1039/C2CC36538C, Communication
Silver nanoparticle-embedded polymersome nanocarriers for the treatment of antibiotic-resistant infections
Benjamin M. Geilich, Anne L. van de Ven, Gloria L. Singleton, Liuda J. Sepúlveda, Srinivas Sridhar and Thomas J. Webster
Nanoscale, DOI: 10.1039/C4NR05823B, Paper
Antibacterial polymeric nanostructures for biomedical applications
Jing Chen, Fangyingkai Wang, Qiuming Liu and Jianzhong Du
Chem. Commun., DOI: 10.1039/C4CC03001J, Feature Article
Magnetic hybrid colloids decorated with Ag nanoparticles bite away bacteria and chemisorb viruses
Hye Hun Park, SungJun Park, GwangPyo Ko and Kyoungja Woo
J. Mater. Chem. B, DOI: 10.1039/C3TB20311E, Paper
Covalent attachment of multilayers (CAM): a platform for pH switchable antimicrobial and anticoagulant polymeric surfaces
Heather A. Pearson, Joseph M. Andrie and Marek W. Urban
Biomater. Sci., DOI: 10.1039/C3BM60238A, Paper
Multi-scale strategy to eradicate Pseudomonas aeruginosa on surfaces using solid lipid nanoparticles loaded with free fatty acids
Erik N. Taylor, Kim M. Kummer, Deepti Dyondi, Thomas J. Webster and Rinti Banerjee
Nanoscale, DOI: 10.1039/C3NR04270G, Paper
Bio-inspired resin acid-derived materials as anti-bacterial resistance agents with unexpected activities
Mitra S. Ganewatta, Yung Pin Chen, Jifu Wang, Jihua Zhou, Jerry Ebalunode, Mitzi Nagarkatti, Alan W. Decho and Chuanbing Tang
Chem. Sci., 2014, DOI: 10.1039/C4SC00034J, Edge Article
Antibacterial activity of Ionic Liquids based on ampicillin against resistant bacteria
Ricardo Ferraz, Vânia Teixeira, Débora Rodrigues, Rúben Fernandes, Cristina Prudêncio, João Paulo Noronha, Željko Petrovski and Luís C. Branco
RSC Adv., DOI: 10.1039/C3RA44286A, Paper
The surface charge of anti-bacterial coatings alters motility and biofilm architecture
Olena Rzhepishevska, Shoghik Hakobyan, Rohit Ruhal, Julien Gautrot, David Barbero and Madeleine Ramstedt
Biomater. Sci., DOI: 10.1039/C3BM00197K, Paper
Studies of the drug resistance response of sensitive and drug-resistant strains in a microfluidic system
Xiangdan Jiang, Yu Kang, Xingjie Pan, Jun Yu, Qi Ouyang and Chunxiong Luo
Integr. Biol., DOI: 10.1039/C3IB40164B, Paper