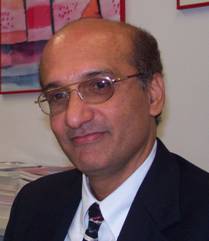 We are pleased to welcome Dr Ahmed Kamal to the Advisory Board of MedChemComm and look forward to working with him in the future.
Dr Kamal was born on 5th April, 1956 in Hyderabad, Andhra Pradesh, India. He obtained his Masters degree in 1977 and doctorate in 1982 from Aligarh Muslim University, India. From 1983 he has worked as a Scientist at the Indian Institute of Chemical Technology (IICT), Hyderabad, one of the leading chemical laboratories of the Council of Scientific and Industrial Research (CSIR), India. Between 1993 and 1994, he was a visiting scientist at the University of Alberta, Edmonton, Canada.
Since joining IICT, he has been involved in the pharmaceutical and medicinal chemistry of many different drug discovery programmes, both national and international, with excellent research outputs. Currently as well as being a leading scientist at IICT he is the Project Director of NIPER (National Institute of Pharmaceutical Education and Research), Hyderabad.
His current research interests revolve around multi-disciplinary research programmes including organic synthesis, medicinal, combinatorial and green chemistry, and chemical biology. Focussing on:
• The design and synthesis of gene-targeting compounds as new and novel anticancer agents
• New chemical entities for antitubercular and antimalarial activity
• The development of new efficient synthetic methodologies
Design, synthesis and biological evaluation of imidazo[1,5-a]pyridine–PBD conjugates as potential DNA-directed alkylating agents
Med. Chem. Commun., DOI: 10.1039/C2MD20219K, Concise Article
3-Diarylethyne quinazolinones: a new class of senescence inducers
Med. Chem. Commun., DOI: 10.1039/C2MD20302B, Concise Article
Synthesis of tetrazole–isoxazoline hybrids as a new class of tubulin polymerization inhibitors
Med. Chem. Commun., DOI: 10.1039/C2MD20085F, Concise Article
The first total synthesis of nhatrangin A
Org. Biomol. Chem., DOI: 10.1039/C3OB40252E, Paper
Inter- and intrastrand DNA crosslinks by 2-fluoro-substituted pyrrolobenzodiazepine dimers: stability, stereochemistry and drug orientation
Org. Biomol. Chem., DOI: 10.1039/C2OB25654A, Paper
Catalyst-free stereoselective cyclopropanation of electron deficient alkenes with ethyl diazoacetate
RSC Adv., DOI: 10.1039/C3RA42374C, Communication
An improved iron-mediated synthesis of N-2-aryl substituted 1,2,3-triazoles
RSC Adv., DOI: 10.1039/C3RA22485F, Paper