Sunday night saw the inaugural poster session at the 2013 RSC Medicinal Chemistry Summer School. In total 16 delegates present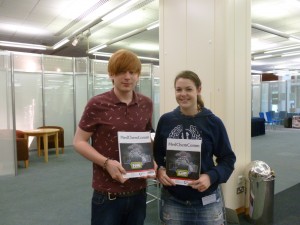 ed their work on the evening. A broad spectrum of chemistry was discussed over a glass of wine and posters provided a great way to see the research interests of delegates. There were 2 poster prizes up for grabs – a 1 year subscription to MedChemComm  and a book from the RSC Books Drug Discovery Series.
On Monday morning, Andy Davis announced the winners; there was a tie for the MedChemComm sponsored Prize which was shared between:
Louis Allot ( University of Hull) for his work on PET imaging of nuclear receptor expression.
Kate Nicholson (University of Hull) for her work on synthesis and evaluation of novel coordination complexes as CXCR4 antagonists.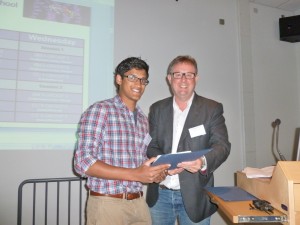 Delegates also had an opportunity to vote for their favourite poster, the winner of the "participants prize" went to Madura Jayatunga (University of Oxford) for his work on non-covalent and covalent inhibitors of the HIF1a-p300 interaction. Madura received the RSC Book Prize – New Therapeutic Strategies for Type 2 Diabetes.
Thanks to our 2 judges Andy Davis and Roger Griffin; and of course everyone that took part!