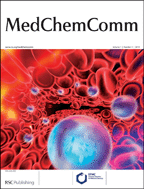 Curious about which articles published in 2012 gathered most readership? Here are the Top 10 works your colleagues have been accessing most in MedChemComm:
The developability of heteroaromatic and heteroaliphatic rings – do some have a better pedigree as potential drug molecules than others?
Timothy J. Ritchie, Simon J. F. Macdonald, Simon Peace, Stephen D. Pickett and Christopher N. Luscombe
Med. Chem. Commun., 2012, 3, 1062-1069
DOI: 10.1039/C2MD20111A
Gd(III) chelates for MRI contrast agents: from high relaxivity to "smart", from blood pool to blood–brain barrier permeable
Chang-Tong Yang and Kai-Hsiang Chuang
Med. Chem. Commun., 2012, 3, 552-565
DOI: 10.1039/C2MD00279E
The use of phosphate bioisosteres in medicinal chemistry and chemical biology
Thomas S. Elliott, Aine Slowey, Yulin Ye and Stuart J. Conway
Med. Chem. Commun., 2012, 3, 735-751
DOI: 10.1039/C2MD20079A
Development of second generation epigenetic agents
Philip Jones
Med. Chem. Commun., 2012, 3, 135-161
DOI: 10.1039/C1MD00199J
Small molecules DNA methyltransferases inhibitors
Nadine Martinet, Benoît Y. Michel, Philippe Bertrand and Rachid Benhida
Med. Chem. Commun., 2012, 3, 263-273
DOI: 10.1039/C1MD00194A
Inhibition of bromodomain-mediated protein–protein interactions as a novel therapeutic strategy
Silviya D. Furdas, Luca Carlino, Wolfgang Sippl and Manfred Jung
Med. Chem. Commun., 2012, 3, 123-134
DOI: 10.1039/C1MD00201E
Epigenetics—an emerging and highly promising source of new drug targets
Nessa Carey
Med. Chem. Commun., 2012, 3, 162-166
DOI: 10.1039/C1MD00264C
From the protein's perspective: the benefits and challenges of protein structure-based pharmacophore modeling
Marijn P. A. Sanders, Ross McGuire, Luc Roumen, Iwan J. P. de Esch, Jacob de Vlieg, Jan P. G. Klomp and Chris de Graaf
Med. Chem. Commun., 2012, 3, 28-38
DOI: 10.1039/C1MD00210D
Inhibitors of Stat5 protein signalling
Abbarna A. Cumaraswamy, Aleksandra Todic, Diana Resetca, Mark D. Minden and Patrick T. Gunning
Med. Chem. Commun., 2012, 3, 22-27
DOI: 10.1039/C1MD00175B
Investigation of the effect of molecular properties on the binding kinetics of a ligand to its biological target
Duncan C. Miller, Graham Lunn, Peter Jones, Yogesh Sabnis, Nichola L. Davies and Paul Driscoll
Med. Chem. Commun., 2012, 3, 449-452
DOI: 10.1039/C2MD00270A
Interested in submitting your own work to MedChemComm? Submit online today, or email us with your suggestions!