Welcome to this blog taking a look between the covers of this month's issue of MedChemComm.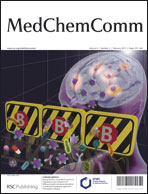 This impressive image featuring on the front cover of the issue highlights the work being done by Kyong-Tai Kim and Sung-Kee Chung et al. Kim, Chung et al. have found a blood–brain barrier permeable derivative of trehalose that can prevent the aggregation of polyQ in transfected cells. This derivative was also found to prolong the lifespan and improve motor functions in a transgenic mouse model.
Preparation and evaluation of BBB-permeable trehalose derivatives as potential therapeutic agents for Huntington's disease
Jungkyun Im, Sangjune Kim, Young-Hun Jeong, Wanil Kim, Dohyun Lee, Woo Sirl Lee, Young-Tae Chang, Kyong-Tai Kim and Sung-Kee Chung
DOI: 10.1039/C2MD20112G
Read the whole article for free for 6 weeks!