Welcome to the first issue of MedChemComm of 2013. Join us in taking a look at our successes from the last year and in looking forward to another exciting year for the journal by reading our New Year Editorial.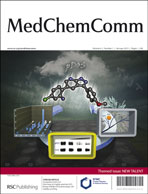 Not only is this issue the first of a new year it is also our New Talent themed issue, where we showcase the strength of research being carried out by some of tomorrow's leaders in the field with 36 high quality articles.
This stunning cover (right) highlights the work of Seung Bum Park et al. who have discovered a novel heterobiaryl pyrazolopyridine skeleton as a selective FLT3 inhibitor from phenotype-based viability profiling and hypothesis-driven deconvolution.
Discovery of a highly selective FLT3 kinase inhibitor from phenotypic cell viability profiling
Sanghee Lee, Ala Jo and Seung Bum Park
DOI: 10.1039/C2MD20169K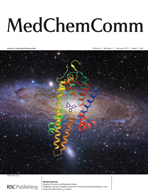 Stars, stars everywhere, and it's not just the rising stars featured in this issue that we're talking about with this cover (left) from Stephen P. Andrews and Benjamin Tehan. Andrews & Tehan review the first example of structure-based drug design with G protein-coupled receptors (GPCRs) thanks to StaR® proteins (stabilised GPCRs), and how this has enabled the identification of a preclinical candidate for the treatment of Parkinson's disease.

Stabilised G protein-coupled receptors in structure-based drug design: a case study with adenosine A2A receptor
Stephen P. Andrews and Benjamin Tehan
DOI: 10.1039/C2MD20164J
Read it all today by visiting our journal home page.